Across California, ornamental growers are clearing out their greenhouses and putting in marijuana plants, following the legalization of cannabis in California. The cultivation circumstances are perfect for this particular crop, and the growers already have the necessary know-how, so why not take the plunge? Just hold on, because if you're really looking to exchange those ornamental plants for something else, there's another interesting option: vanilla.
William Samson is a fourth year Plant Science major at Cal Poly, concentrating on Fruit Science and minoring in Spanish. At Cal Poly, William works as a Nursery Production Assistant, but he lives at the student Ag Housing at the Environmental and Horticulture Science Unit where the ornamental cut flower greenhouses and arboretum are located. While working there, he's learned how to care for plants, plant health, nutrition, pest control, and production working at the Horticulture Unit for the past two years.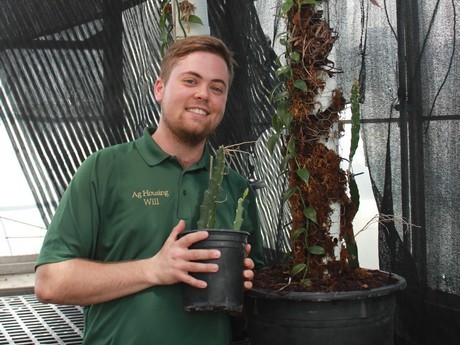 William in the vanilla orchid greenhouse (photo credit: Eleanor Harlan)
Growing up in Latin America, William has always had an affinity for tropical plants and fruits. "Two years ago, I was researching what crops could be grown in Mediterranean climates and I was very close to starting a saffron research project. But then I began working at the EHS Unit and discovered the amplified possibilities using a greenhouse to grow plants commercially in California. Then I began to investigate Vanilla planifolia and tried to figure out why it was not being commercially grown yet."
That's how he found out about the real challenges growing this orchid, like the lack of the Mellipona spp. Bee in California and the fact that they must be hand pollinated. He also learned about how competitive the vanillin extract business is because paper pulp mills produce vanillin as a byproduct of the paper industry. "I looked into the etnobotany of this species and found that it's native to Mexico. Because I am interested in the anthropological uses of plants, I was fascinated in all of these challenges and qualities of the Vanilla planifolia plant and I decided to begin cultivating it."
From ornamental to vanilla orchids
One of the conclusions of William's research is that orchids grow really well in California ornamental greenhouses. Growers of ornamental orchids, like phalaenopsis, are especially well-positioned to grow vanilla orchids. As an ornamental orchid grower for the Cal Poly EHS Unit, William grows phalaenopsis, oncydiums and zygopetalums. "The Vanilla planifolia orchids thrive in these other orchid conditions. 70-80% shade, high humidity, 82 degrees Fahrenheit of average temperature. It is easy for an ornamental orchid grower to incorporate the vanilla plant into their greenhouse operation."
William also noticed that the vanilla orchids are resistant to most pest problems, especially to mealybugs. "They should be fertilized once a week. Unfortunately, their flowers are also susceptible to aphids and ant infestations, because they suck the sap out of the phloem and the ants harvest the honeydew from the aphids. The one issue with growing Vanillas in a phaleanopsis greenhouse is that the Vanilla plants require vertical trellising and larger sized containers, but the other conditions are exactly the same."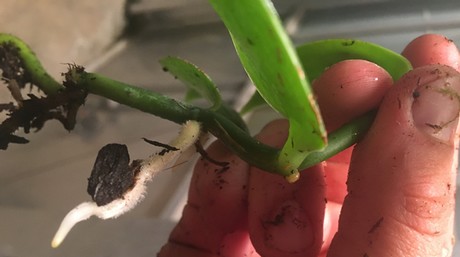 Vertical growth
One of the challenges commercial growers will run into is the vanilla orchid's vertical growth. The Vanilla planifolia orchid grows phototropically, similar to the hops plant, and epiphytically like Tillandsias. "Thus, each vine (individual plant) requires a vertical trellis that should be 5 ft tall", William clarifies. "I recommend using drain pipe (French drain), wrapped with chicken wire and filled with spaghnum moss to recreate imitation trees. Insert the pipe into a 10 gallon container and fill with bark, which is the best substrate. These can be considered prosthetic or imitation trees for the Vanilla planifolia and there is no need to use actual trees to produce vanilla seed pods. But I have orchids flowering while growing epiphytically on a Plumeria tree and flowering on the drain pipe vertical trellis. It is important to train the vine vertically to promote growth from the shoot apical meristem, however, the flowering will only be on lateral branches that are two years old. There is no flowering on one year vines. I have noticed that vegetative growth occurs all year round but reproductive growth occurs only from Janurary through March, and during this time pest scouting is crucial. Mist the greenhouses, imitation trees and vines 1-3 times a day with room temperature water."
Crop protection
As with any crop, there are some unwanted guests who'll want to nibble on those sweet vanilla orchids. Aphids and ants can destroy the entire crop of vanilla seed pods by destroying the flower primordia in the reproductive buds before bloom, William warns. Therefore, he advises to always employ integrated pest management.
According to Nicholaus Beter, a Cal Poly Horticulture alumnus, and now Head Grower at Rocket Farms, "Aphids are best dealt with using Beauvaria bassiana, which works very well. It's good to combine azadarachtin with this fungal mycoinsecticide to stop the molting process, which allows the beauvaria parasitism to more effective." Beter was once William's boss at the Cal Poly Environmental Horticulture Unit and taught him a lot about the science and techniques to working in greenhouses.
Continuing his advice on crop protection measures, William says: "Then use lacewing larvae and perhaps and aphid parasoitoid if the aphid pests are the appropriate species. Using botanical sprays like mineral oils and soap sprays work marginally. I am currently doing research on Marrone Bio Innovation bio-pesticides like Grandevo and Venerate on this crop to gain a larger arsenal of tools to use."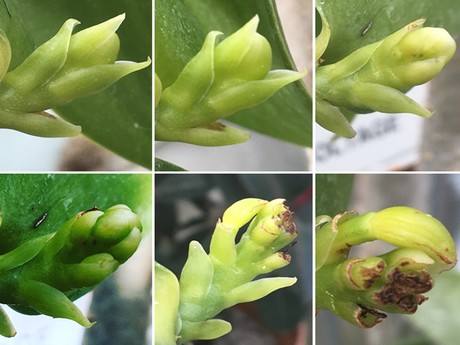 Commercial propagation
The budding vanilla orchid industry will also be in need of young plants, of course. William sees huge potential for propagators to get into the Vanilla planifolia production in California. Currently, there are no commercial propagators of Vanilla planifolia in the state. Furthermore, there is apparently a shortage of Vanilla plants in Mexico, where the species is native to the forests of Yucatan. "It may be possible to set up an ecological benefiting nursery of Vanilla planifolia in the US and sell the propagules to Mexico", William says.
"If propagators utilize tissue culture, then I assume they can have an opportunity to begin selling this plant to Mexico to supply the shortage, and produce at a cheaper price with a faster turn around than propagation by cutting. If this plant takes off commercially, there will also be need of tissue culture propagators to supply the demand necessary to outfit California with this new crop."
Local product
Marijuana has been a major cash crop recently. Could vanilla orchids turn out to be the next big thing? "Locally grown products and organic products are growing in significant demand annually", William says. "I think that locally grown marijuana has the same appeal as vanilla, however, one of the difficulties is that the paper mill industry floods the market with imitation vanillin extract and this hurts the naturally produced extracts because they are more expensive.
"I believe that marijuana is the cash crop that vanilla may be someday, especially if people believe in it and the potential of having Made in USA natural vanilla extract. Pilot programs are important to understand the demand of this locally produced vanillin in the USA. It is satisfying to know that people want to consume products that are locally grown and organic. Vanilla planifolia can certainly be commercially grown that way in California."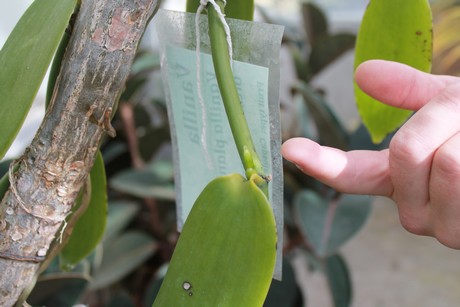 Getting started
According to William, getting started with vanilla isn't too complicated: "Vanilla planifolia is a relatively low-cost plant to set up, and the trellises can be built using very inexpensive equipment. If you have a misting system already set up in the greenhouse, the plants will require minimal attention most of the year. If companies choose to do pilot programs, it is also easy to propagate vanilla plants by cuttings, tissue culture is not entirely necessary. Therefore, when a company begins to grow Vanilla, they can begin propagating new plants the second year using cuttings from their own plants.
"Assuming everything goes well with the horticulture production of the vanilla orchids, growers can expect to harvest pods after two years. Pods take six months of maturation on the vine before they are ready for harvesting. The timeline before a new grower can get pods is approximately 3 years."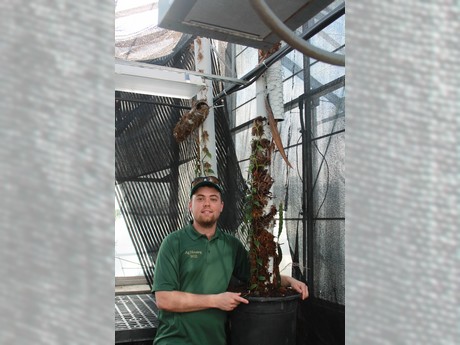 Photo credit: Eleanor Harlan
Pilot project
William is currently looking for growers who have greenhouses who want to begin a cooperative of California Vanilla production. "The idea would be to congregate all of the Vanilla harvested each year and make one label that will be in charge of extracting the entire American essential compound harvest. Once the extract is sold, each grower will receive compensation based on the weight of their harvest."
For this industry to take off, there needs to be a cooperative, William says. "The reason this has to be consolidated is because this would be a new commercial product in the state of California. To get the kind of traction needed to introduce a new crop like coffee, passion fruit, or dragon fruit in California, it is almost necessary to have a cooperative."
He's looking for growers who are interested in using IPM, bio-pesticides, compost, and sustainable practices to devise a method of introducing a new crop in California that will create a value-added product. "The reason I want to bring this plant to the United States is to verify that we are producing the highest quality vanilla from propagation, maturation to distillation. Therefore, I want people who are interested in being team players and want to be part of an exciting movement in this state. I want to work with innovative, big-thinkers, and risk-takers who want to share spaces in their greenhouses and be part of a cooperative that will begin paying them the after their first harvest."
For more information, contact William Samson at vanillaorchidgreenhouse@gmail.com - also check out the report he wrote on vanilla orchid cultivation.