Many varieties were on display at the California Spring Trials 2018. So, even if you visited the event, you could have missed some. For this reason, FloralDaily.com will present several highlights that were on display at the participating companies in the coming weeks. In this article, we highlight the varieties of Danziger, Varinova, Syngenta, Proven Winners and Benary+. 
Click 
here for the extensive Photo Report of the California Spring Trials that we published right after the Trials.
Headstart Nursery
At Headstart Nursery, Danziger and Varinova presented their varieties and novelties.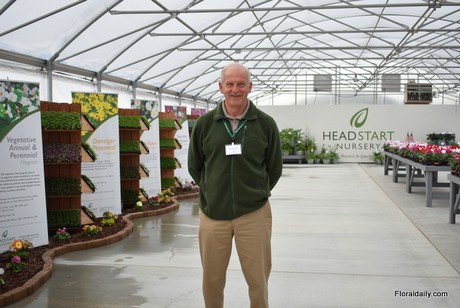 Hans Gerritsen of Headstart Nursery. This propagation nursery is a big player in the field of green plants. 
Danziger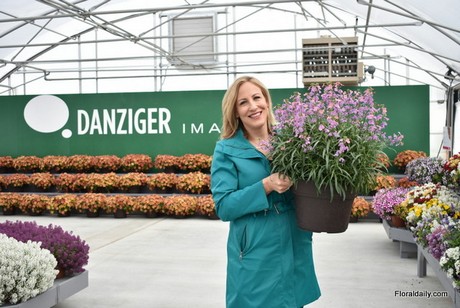 Kate Zvara of Danziger presenting their new
Erysium Sunstrong Bicolor Purple
, a new bicolor that does not require cooling, it holds color till first freeze and it's first year flowering so you can grow it as an annual.

On the left:
Phloxstar Red
is part of the new Phloxstar series that consists of three colors. It is a Phlox with a mounding habit that flowers all summer long. Many phloxstars are known for having trouble in rooting, but trials reveal that these root very well. According to Zvara it works great in quarts and 2.5 quarts. On the right:
Lia
is a new series of calibrachoa that is bred for baskets. The series has short internodes which means more flower power and better performance. The series currently consists of four colors and more will follow. Click
here
 for the enlarged picture.
Varinova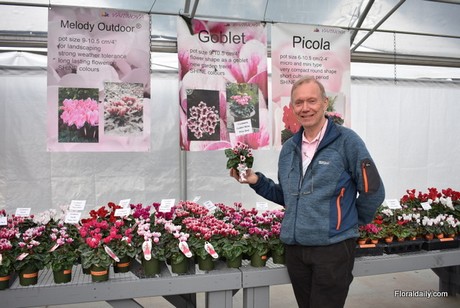 Bart Kuyer of Varinova presenting one of their bestsellers; Goblet Shine Wine Red. Special about this cyclamen is the goblet flower shape.
Syngenta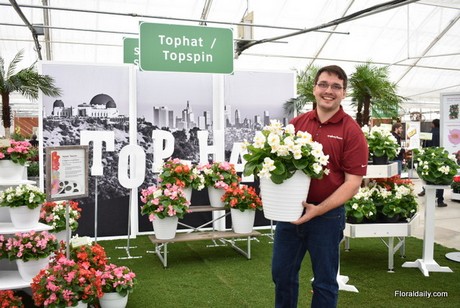 Brandon Willis of Syngenta presenting
Tophat
, an interspecific begonia. The series exists of a scarlet, pink and white variety and according to Willis, the size of the flower makes the white variety unique. "We are the only breeder with this large white flowers on the market. Besides that, it is early finishing and the arms do not stick out."

On the left
Moxie
. This is a new interspecific compact geranium. "Ideal for growers that do large box production. They can shift from zonale to this one. Another new and one-off item that has similar characteristics to the Moxie is
Pretty little Pink Splash
. It is more compact and has more flowers and growers can grow it along Moxie. "Syngenta focuses on interspecific varieties as they see more future in these varieties than the zonal types. On the right
Cabrio
Calibrachoa. It is a sister series of the existing Callie series and is suitable for smaller pots. There are six colors in the series and according to Willis, the Eclipse Lilac is special as it is not a core color. Click
here
 for the enlarged picture.
Proven Winners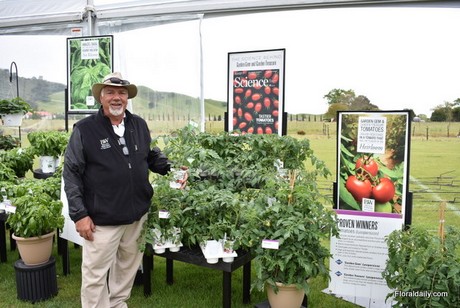 John Gaydos of Proven Winners presenting their new Vegetable Program;
Proven Harvest
, something they never had before. The line, comprised of 5 varieties, is all about providing flavor, disease resistance and a long season of harvest for consumers. They will be offering two Berried Treasure patio strawberry varieties, two tomato varieties—'Garden Gem' and 'Garden Treasure' and Amazel Basil, the first downy mildew resistant variety of Italian sweet basil. On the picture, Gaydos is presenting the tomato plants.

On the left
Rockin' Fuchsia Salvia
. It is said to be the first true pink S. guaranitica on the market. "A true breeding breakthrough." It matches well with Rockin'Deep Purple and attracts pollinators, "a pollinator magnet". On the right
Coral Creations
. It is a succulent programme that will be introduced in July 2019. In this programme, they focus on color and what varieties go well together. Proven Winners works with Danish Chris Hansen of Garden Solutions, who is the originator, breeder and collector of the Coral Creations line. The collection built has a shelf life of 9 months inside and outside. Click
here
 for the enlarged picture.
Benary+
Last year, Benary+ was established. This is a partnership between Benary and Volmary. Benary supplies the seeds and Volmary the cuttings through Benary+ directly to the grower. At the CAST, the varieties of Benary and Volmary were on display.

Benary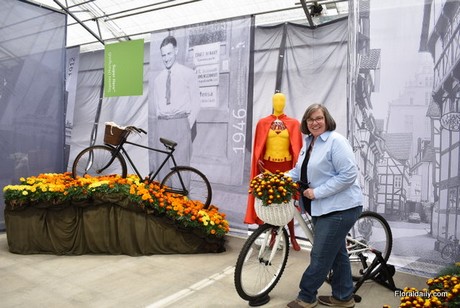 Jen Calhoun of Benary with the popular bike. With this bike, the Benary story began after World War II. In the bicycle basket, Marigold Spry. It is part of the new line of Marigold that replaces the Hero Series. This new series is now called Super Hero Series. It consists of 8 colors, they have more uniform growing habits, larger flowers, more uniform flower color and compact. Spry, the one on the picture, is an AAS Winner.

On the left
Funky Begonia Orange
and
Funky Begonia White
. It is bred to be as easy as semperflorens begonia, but has the flower power of tuberous begonia. It has shredded double flowers, they can handle full sun and the series currently consists of 3 varieties. On the right 4 new colors in the
Viola Cornuta
series
Admire
; Deep Purple Face, Neon Purple Wing, Pink Face and Lemon Purple Wing. Benary breeds for large flowers, vivid colors and faces looking up. Click
here
 for the enlarged picture.
Volmary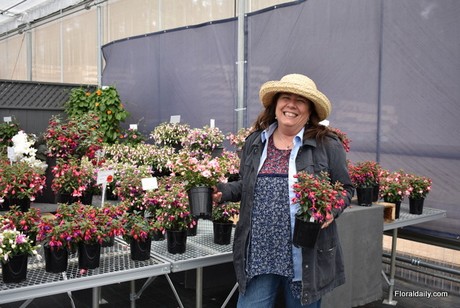 Melissa Main of Benary+ is holding the Fuchsia Fuchsita Candy and Leonita Red-Blue, varieties of Volmary, supplied in North America by Benary+.

On the right
Leonita Semi-Double Red-Blue
. It has two different colors on the same plant. They are more compact and do not tangle, which makes them easier to ship. On the right
Samira Burgundy Wing
. A bicolored "vigorous type and mounded type for baskets. In the center it still flowers well." Click
here
 for the enlarged picture.