The weather in Kenya has been unusual for the last couple of months. The rainy season started off too early this year and now, the cold period with cloudy days is taking longer than usual. And the consequences are visible in the crop. "The colder and darker days delay the crop", says Florence Didy of Harvest Flowers Kenya who grows roses on over 40 ha at three farms, located at different altitudes; one low-altitude farm (1500m) just outside Nairobi and two high-altitude farms (2400m) at the foothills of the Aberdare mountain Range.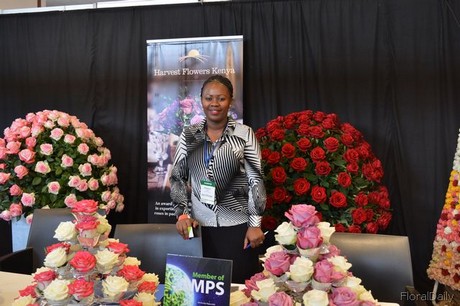 Florence Didy at the IFTEX 2017 in Nairobi, Kenya.

Cold and dark days
"Usually the cold period runs till half of July or the beginning of August, but we did not expect to still have it in September", Didy says. "Normally, the day temperatures ranges from 20 to 28 degrees Celsius and night temperatures 8-12 degrees Celsius, but now they range between 15 and 20 degrees for the day and night 6-9 degrees Celsius." On top of that, the days are wetter and darker as well. "It is cloudy and raining for several weeks now."

Crop affected

In turn, the crop is affected by the weather. "Due to the lack of sunlight, the cut points remain dormant for quite long and the overall sprouting and growth of the crop is very slow hence the low production being experienced. Fortunately, less rain is falling compared to four weeks ago, therefore, we have less issues with diseases like botrytis. The delayed crop is the main issue at the moment."

Demand - Prices

But is a delayed production a concern during this time of the year? Didy, is not worried. "The demand is still low during this time of the year. At the Dutch auction, to which we supply our high altitude roses, the prices have been OK. And particularly last week, with the first school day (September 1) in Russia, the demand for our spray roses was high and the prices increased." Also for their other roses at the auction, the prices in the clock have been very low but as from last week we have seen the prices going up gradually.
All in all, Didy was quite pleased with this year's summer season. "Usually, the demand is low in summer, but this year it was even lower, mainly due to the hot weather in Europe. So, the low demand balanced out the low production, which resulted in a quite OK summer for us."
Forecast
The demand is expected to increase further the coming weeks. "People are returning from their holiday as children are starting school again." And what about the dark days? "It is expected that it will be cloudy for another two weeks. In week 39 they expect clear sky and this will be exactly on time as the demand will also be high."

For more information

Harvest Limited
Florence Didy