It is 2018 and cut rose growers are preparing for one of their major sales periods of the year, namely Valentine's Day. Also for Colombian rose grower Agricola Circasia Valentine's Day is an important day and Circasia's Sales Manager Liliana Rodriguez is very optimistic about this year's sales. "It will fall on a Wednesday and that, historically speaking, means good sales." One of their main markets is the US, where Valentine's Day is one of the most important floral holidays of the year.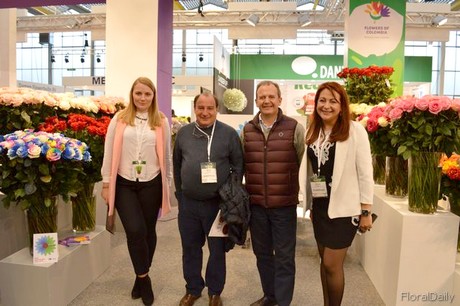 Anna Lisetska, Rafael Boada, Jose Luis Suarez and Liliana Rodriguez at the IFTF 2017 in Vijfhuizen, the Netherlands.
Day of the week
This year, Valentine's day falls on a weekday (Wednesday) and as many in the U.S. floral industry believe, celebrating Valentine's Day on a weekday is good for sales. Also Rodriguez sees differences in sales when looking at the date of Valentine's Day. "Last year, Valentine's Day fell on a Tuesday and in 2016, it fell on a Sunday. When comparing the sales of both dates, we see that 2017 was a lot better compared to 2016. The sales were about 7 percent higher", she says. And for 2018, she is optimistic about the sales too as it again falls on a weekday.
Atypical Weather
The weather, however seems to be a little atypical for this time of the year. "Normally in Colombia we have a lot of sun and this year has been a little cold and cloudy. But we are now counting the days for our Valentine's day harvest and we are on schedule."
Pink Mondial
Next to expecting high flower sales in general for Valentine's Day, Rodriguez has high hopes for their Pink Mondial rose. They introduced this variety last year and have seen a sharp increase in demand for this variety. "We receive a lot of requests for this variety." On top of that, Circasia also won several awards with this variety. At the Flowers Expo Moscow 2018, for example, their Pink Mondial rose was the Winner of the Exhibition in the competition for the Best Quality. Silantoi is another pink award-winning variety in their assortment. It won the first prize "Best in Category" in the category Standard roses at the Proflora 2017.
Agricola Circasia and Vuelven
Agricola Circasia and Vuelven are growing roses in the North of Bogota for over 25 years. They recently expanded their greenhouse with 2ha and are currently growing 53 rose varieties, of which 16 are new varieties, on 40 ha.
For more information
Agricola Circasia
Liliana Rodriguez
Email:
lrodriguez@circasia.com
www.circasia.com