While every Valentine's Day (February 14) has a similar pattern for the flower industry, each year changing climates and new trends influence the quantity and price of the market differently. In South America, for example, different market trends and unpredictable weather kept rose growers on their toes this growing cycle.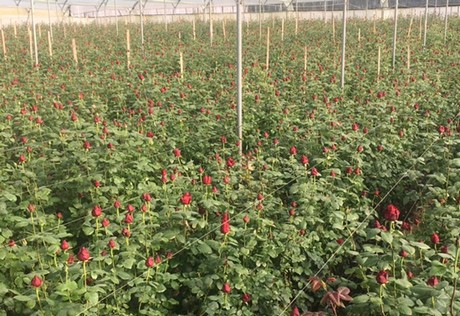 Rose field from a client of Plantec Ecuador, taken on January 29th, 2018.
Unusual weather
In South America the lack of sunlight over the last months decreased the production volume, and particularly in Colombia. "The production in Colombia is seeing less stems than expected. This deficiency is also causing some Colombian reds to produce blind shoots which contributes to the smaller quantities we are currently seeing", says Aviram Krell of Plantec Ecuador, a rose propagator.
Luckily the weather conditions changed during January and resulted in a double blessing for the growers. "It brought the peak of the rose production to arrive perfectly on time; this is a pleasant contrast to last year's late peak, or the early peak from years before. Besides that, the warm weather is helping to prevent the roses from getting diseases such as botrytis or mildew", it seems very likely that both countries will have the ideal peak of rose production right around the beginning of February.
Demand for colors other than red
Another atypical aspect of this year's valentines is the unusually high demand for colors such as yellows, bicolors, and whites, notices Krell. "And while pink is not as heavily demanded as expected, with Pink Mondial being sold at around +5/cm, there is no doubt that the demand for colored roses is higher than the current supply", he says.
However, red remains the main color for Valentine's Day and Krell expects the varieties Explorer and Hearts to maintain their position as the most popular varieties this year, much as they were last year. Due to the limited supply of these varieties Farms are selling them at the highest prices compared to other reds that have already saturated the markets. "However, quantities are hard to measure because some farms are preparing some Explorer to arrive in time for Women's day, due to the variety's popularity in Russia."
Fingers crossed for good weather in US and Europe
"All in all, South American growers are praying that the U.S.A and in Europe have a sunny Valentine's Day, and that people will go out to enjoy the day with some of the finest quality roses in the world".
Some statistics
But how many flowers actually are being sold for Valentine's Day? Krell shares some Colombian export statistics published by the Colombian association of Flower Exporters, (Asocolflores): "On this Holiday they are estimating 600 million stems from 1,600 varieties to be sold, with a majority of these being roses. Additionally since this year Valentines lands on a weekday, it is expected to positively influence flower sales. The Association mentioned that approximately 73% of Colombian flowers are roses, and the colors which are seeing the most popularity are the reds, whites, pinks, and yellows roses."
For more information
Plantec Ecuador
Aviram Krell
Email:
public-relations@plantecuador.com
www.plantecuador.com