With the regulations on the use of plastic becoming stricter, the awareness of plastic use among retailers and consumers has increased. Also the flower industry is adopting to this trend and more and more are looking for alternative solutions to plastic. About four years ago, Weber Verpackungen introduced their alternative to the fully plastic or fully paper sleeve; Bloomguard. And now, in the second quarter of 2019, they will introduce a new higher sleeve suitable for the majority of cut flower and orchid sizes. At the FloraHolland Trade Fair in Aalsmeer this week, they will show their latest innovations. 



Ewald Bouwmeister and David at the IPM Essen 2018

"We used to supply 37cm sleeves, but now, in 2019, we will put on the market 47 cm sleeves", says Ewald Bouwmeister. Just like the bloom guard plus (click here to read the article on the bloom guard) the sleeve is available in three varieties: Fifty Fifty (one side 100% film and one side 100% paper), Pure Paper (two sides 100 % paper) and "Plus" (at least 75% paper on back and pot cover front).  
With this newest longer sleeve, Weber Verpackungen can expand their market share in the orchid and cut flower industry. "Also for the cut flowers, we see that becoming more and using more environmentally friendly products is becoming increasingly important. On top of that, as the sleeves for cut flowers are often printed, we can print up to 10 colors and make all kinds of designs with our state-of-the-art flexo printer."  
Bloomguard sleeves are running on each machine very smoothly and also for the consumer, the sleeve is easy to handle as the film can be easily removed from the paper.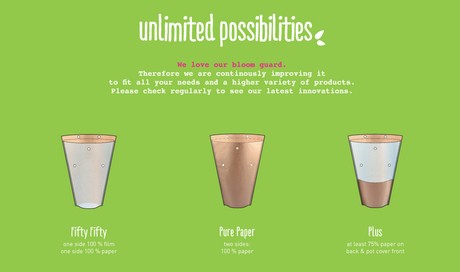 Market adoption
Weber Verpackungen entered the floriculture industry in 2015 and it has not gone unnoticed. In that same year they won the German Packaging award with this bloom guard plus and the year after they presented the product at the IPM Essen for the first time to the international ornamental industry. Afterwards, the demand for this product increased sharply. "The product quickly ended up on the shelves of some major European retailers and – well known garden centers." Due to this huge acceptance in the market, they had to double their production volume year after year to meet the demand. In the meantime, in 2017, they won the World Packaging Award. They can supply all over the world. 
FloraHolland Trade Fair Aalsmeer
Curious about the new and existing sleeves of Weber Verpackungen? Visit their booth (Hall 3, E.20 ) at the FloraHolland Trade Fair in Aalsmeer, the Netherlands, from November 7-9. 
For more information

WEBER Verpackungen
Ewald Bouwmeister 
Email: bouwmeister@weberverpackungen.de
www.die-tuetenmacher.de or 
www.bloomguard.de