"Every day I am scared to get to the office and check numbers", says Ecuadorian rose grower Xavier Beltran of Florecal. But he is not the only one. Nearly all flower or plant growers are experiencing a drastic decrease in demand. It is clear that during the COVID-19 crisis, flowers are not on consumers' minds. Growers are anxious, and thinking about what might come worries them even more. We had a talk with several growers all over the world and asked them how they are dealing with the situation. All in all, we see that they all try to remain positive, hope for better times and do their utmost best to ensure the health and safety of their employees.

Xavier Beltran and Andre Ruigrok at the IFTF 2019
Low demand
Flowers are still going out, but the demand has decreased sharply all over the world. Many growers are throwing away thousands of flowers every day as demand is low and freight capacity low. 
In a Twitter post by Ecuadorian export association Expoflores, it is shown how the floriculture industry is affected by COVID-19. "Sales from Ecuador are down by 80%. We are brave and we will fight to get out of this", their post says. In the video, they show the unsold flowers at the farms in Ecuador as well as the unsold flowers at the auction in the Netherlands. 
Jose Azout of Alexandra Farms in Colombia also sees a drastic decrease in demand as many of their roses are used for events and weddings – and these have all been cancelled. "Only 30 percent of our orders will go out this week and it looks like even less will go out next week", he says.

Jose Azout of Alexandra Farms at the IFTF in the Netherlands
Roberto Bonanno, General Manager of The Flower Hub in Kenya adds that low demand (which is 60% down for them this week) is now combined with the problem of capacity. "Flights are being cancelled and schedules reduced on a daily basis so any orders that we have may not even get off the ground!"

Joyce Muchiri and Roberto Bonanno at the IPM Shanghai
Rose grower Ivan Freeman of Uhuru Flowers in Kenya also stresses the major problem in airfreight. "There are so many cancelled flights or flights with reduced capacity." Fortunately, they are still operating (probably one of the few), but orders are down. "We are probably at 50% of normal and only because we have such a wide range of markets (more than 70 countries)." But many Kenyan farms even stopped production and are sending home workers. More than 1,000 farm workers have been sent home, according to an article published in The Star. 

Ivan Freeman at the IFTEX 219 presenting the golden award he received in the category standard roses
Not only Kenyan growers are facing these freight challenges. Nicolas of The Amazing Flowers of Victoria, a worldwide exporter of fresh cut orchids and plants from Thailand, is dealing with air freight problems. "The most difficult for us now is to find flights. Most of the airlines have decreased flights, so it's really complex at the moment on logistics." According to Nicolas, all has changed since the past two weeks. "We have 50% less orders and probably the same regarding inquiries." Currently they still provide a bit in Asia and the Middle East, and still a bit in the US, but it decreased a lot. "Fortunately, we can see China re-start business and we got a bit of demand from there. I will develop a specific offer for the Chinese market".

On the left: Kookik Chollada Chaichitathorn. On the right: Cattleya Greenwich.
Also for Indian rose grower Narendra Patil of Soex Flora, besides the global low demand, shipping flowers has become a challenge as well. "There are only a handful of airlines that are left and they have raised freight charges a lot." He has also seen domestic demand going down. "All the weddings and events are called off." (Read more here on lower demand in India.)

Part of the team of Soex Flora at the IFTF in the Netherlands (Narendra Patil in the middle) 

In the US, California orchid grower Toine Overgaag, President of Westerlay Orchids, who mostly supplies to grocery stores all over California as well to the big cities more to the east, like Denver, Seattle, Salt Lake City, and Phoenix is seeing demand decreasing. "Most orders have been canceled for the next 2 weeks with more cancellations and possibly for longer. Our principal customers, grocery stores, are trying to keep up with demand for basics."

Toine Overgaag in the greenhouse
Dealing with the virus on farm level
In all countries of the growers we spoke with, there are confirmed corona cases. Therefore, proactive measurements are taken, like educating staff and setting up washing and sanitation stations. Also at hydrangea and hellebore grower Heuger in Germany for example, one of the countries with the highest amount of confirmed COVID-19 cases, precautionary measurements are being taken. "Our biggest fear is that we will see infections among our staff and our staff will get quarantined. We have split our staff in four different teams and send home whoever is not absolutely needed to have some resources left for that case", owner Josef Heuger says.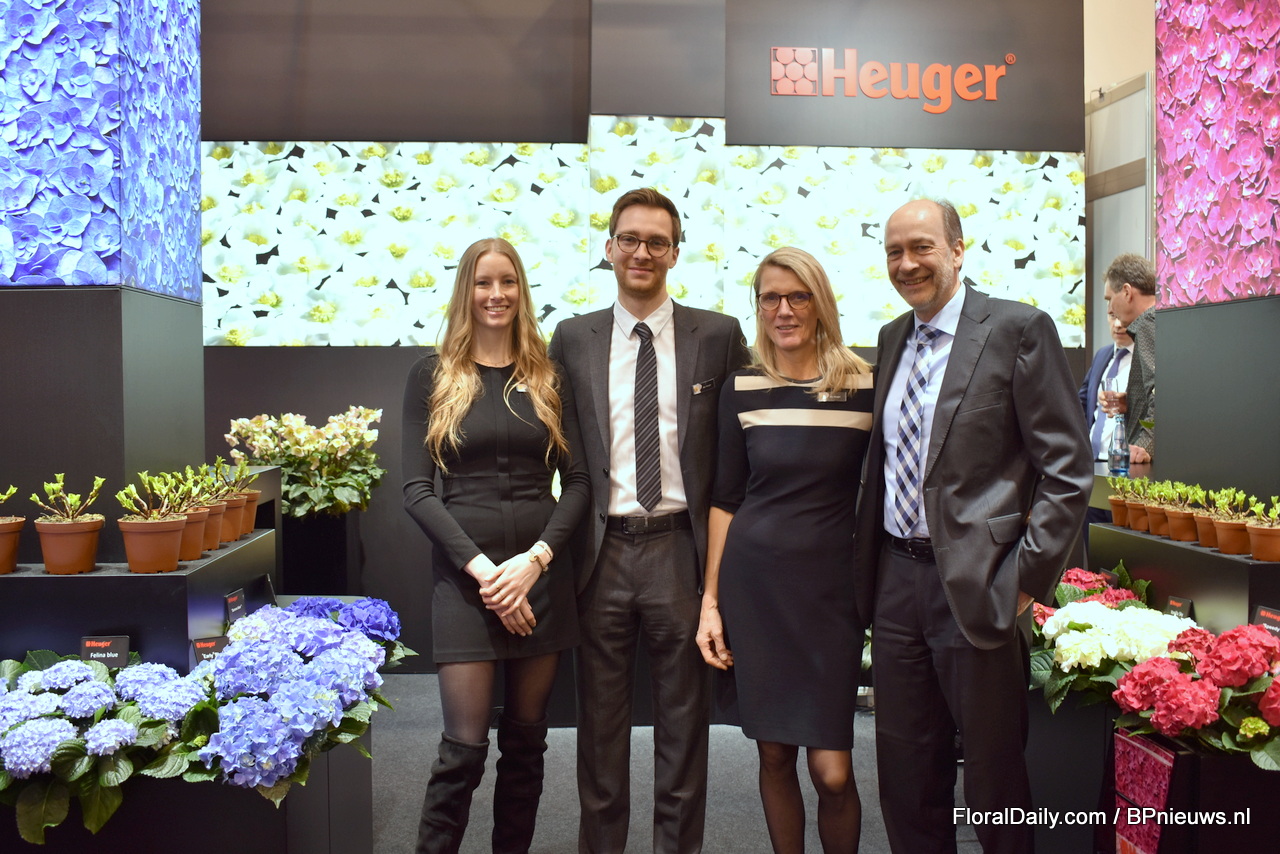 The Heuger family at the IPM Essen 2020 in Essen, Germany (Josef Heuger on the right)
Fear
There is actually not much growers can do at the moment. Several initiatives have arisen to boost flower sales (see our article published yesterday), but as global restrictions take hold not much is left to do besides waiting and hoping. Many fear for what will come.
At Heuger, production is still on schedule. "We get supplied with pots, soil and whatever is needed for production and we are still shipping to customers. What this will do to our industry I guess nobody knows. There is a lot fear and anxiety among our customers. Having almost no sales and then not enough resources to keep production going is like a one-two punch that will send a lot of businesses to the floor, and not all will be strong enough to stand up again. What the governments or central banks can do in a world that is already drowning in debt I don't know. If it would be so easy to print money and help out everybody that has need for it, Venezuela would be the paradise country. But all that doomsday talk is not helping anybody. We also depend a lot on seasonal workers that we might not be able to get any more a few weeks from now", Heuger says.
On top of that, they are expecting the global restrictions to be pushed up. "It's a crazy situation and the worst is we don't know where and when it will end", Beltran says. Also Nicolas is afraid that orders will go down in the coming weeks. "More and more countries are closed everyday."
"Colombian growers have a bit of a breather due to the value of the Colombian peso, but without a doubt this is a crisis", says Aviram Krell of Plantec, a representative of over 5 rose breeders in Latin America with their base in Ecuador. "Luckily this is not the first crisis this sector has faced, and as with any crisis we all behave like this one is the end, while in truth every crisis will pass, we just need to stay strong until it does."

Carlos and Aviram Krell (father and son) of Plantec at the Flor Expo Ecuador
What to do now?
Not tending to the plants is not an option, therefore many are taking care of their plants as much as possible. "Then, when the season of production comes back we will have a better product", says Beltran. "We harvest what we need for the next day and a bit of additional to see if we are lucky and find where to sell them."
What Krell is seeing happening is that some clients have requested to get their mini plants earlier now to take 'advantage' of the situation. "They see this as an opportunity to remove older plants and varieties now since most of the production is being discarded, and using this time to prepare the new plants and varieties that will be in production six months from now."
A sad video from a grower out of the Netherlands, Van der Ende Roses. "It's odd to see the crop without heads. For the surrounding "complainers": there is no artificial lightning anymore."
In the meantime, it's all about supplying or servicing the customers as much as possible and hoping for better times. They are all in the same boat and everyone in the chain understands the situation their supplier or client is in. "We appreciate very much whatever order we get from our customers, for we understand they are struggling as much as we are", says Beltran.