It depends on the crop and the market, but in general over the 2 months, sales seem to have been on the rise for many growers in Europe. Also for Mads Bang Olsen of Gartneriet Lundegaard ApS, a Danish grower known for his Happy Plants, the last weeks have been good. In his 0.5ha greenhouse in Odense, he grows a niche product, namely Sagina, and during summer time he adds some outdoor plants to his assortment.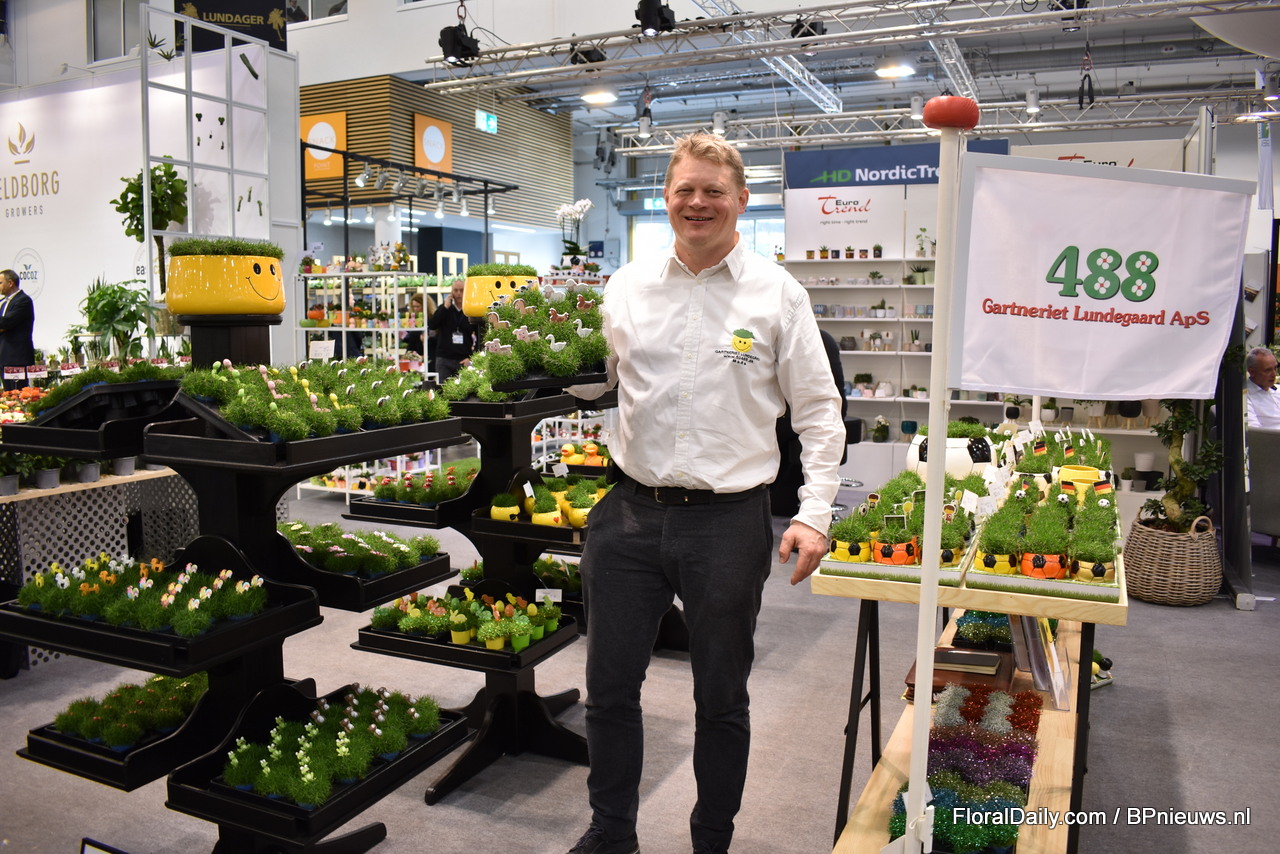 Mads Bang Olsen at the IPM Essen 2020 presenting one of his latest introductions, the Farm mix. 
Impact COVID-19
Gartneriet Lundegaard supplies their 'Happy Plants' all over Europe, but Germany is their main market. In the midst of the pandemic, sales dropped significantly, but fortunately, they started to increase about 2 months ago. "For many growers, it started to increase about 6-8 weeks ago, when countries started to open up. Also for us sales started to get back to normal then."
Consumer decorating their homes
The opening up of the countries, combined with the nice weather particularly boosted the outdoor plants sales, but also Olsen notices a demand that is higher than usual. As he produces a niche product for indoor use, the sales are usually steady. "Every year, sales are more or less similar. However, when looking at this month compared to the same period last year, sales are higher. So not only outdoors, but also indoors, people seem to be busy decorating."

The Happy Plants concept Gartneriet Lundegaard is known for. Click here for more products in their assortment. 
Coming months
Olsen expects the sales to slow down in the coming months coming back to an usual level. "We are heading into summer and this usually means a decrease in demand for our Sagina products." And when the demand for his indoor products decrease, Olsen usually starts the sales of his outdoor plants. Also this year. "Next week, summer officially takes off and that means that we will start the sales of our crassula, cotula, dahlia, helianthus, monopsis and tradescantia."
We'll get through it 
According to Olsen, the industry, depending on the crop and market, is hit very hard. However, he is positive that the industry will get through this. "2020 has been and will be a challenging year, but we need to stay positive. On the bright side, it was an external factor that caused a decrease in demand for the ornamental products, we produced a good quality crop and we will continue doing that in the coming years."
For more information

Gartneriet Lundegaard
Mads Bang Olsen
Email: 488@50488.dk  
www.50488.dk