In India, the trend of using artificial flowers started about 4 to 5 years ago, but from the last 2-3 years it became increasingly popular, and selling in similar market places of fresh flowers giving the customers option to choose from both. This is explained by Narendra Patil of Soex Flora, an Indian rose grower who is seeing the effects as demand for fresh flowers for the big weddings and events is diminishing. Since the beginning of this year together with other growers and associations they are actively pledging to stop using artificial flowers and they are even taking various steps with the government of India to ban selling them. However, not only in India, Patil sees the popularity of artificial flowers across the world. "The usage may vary from country to country."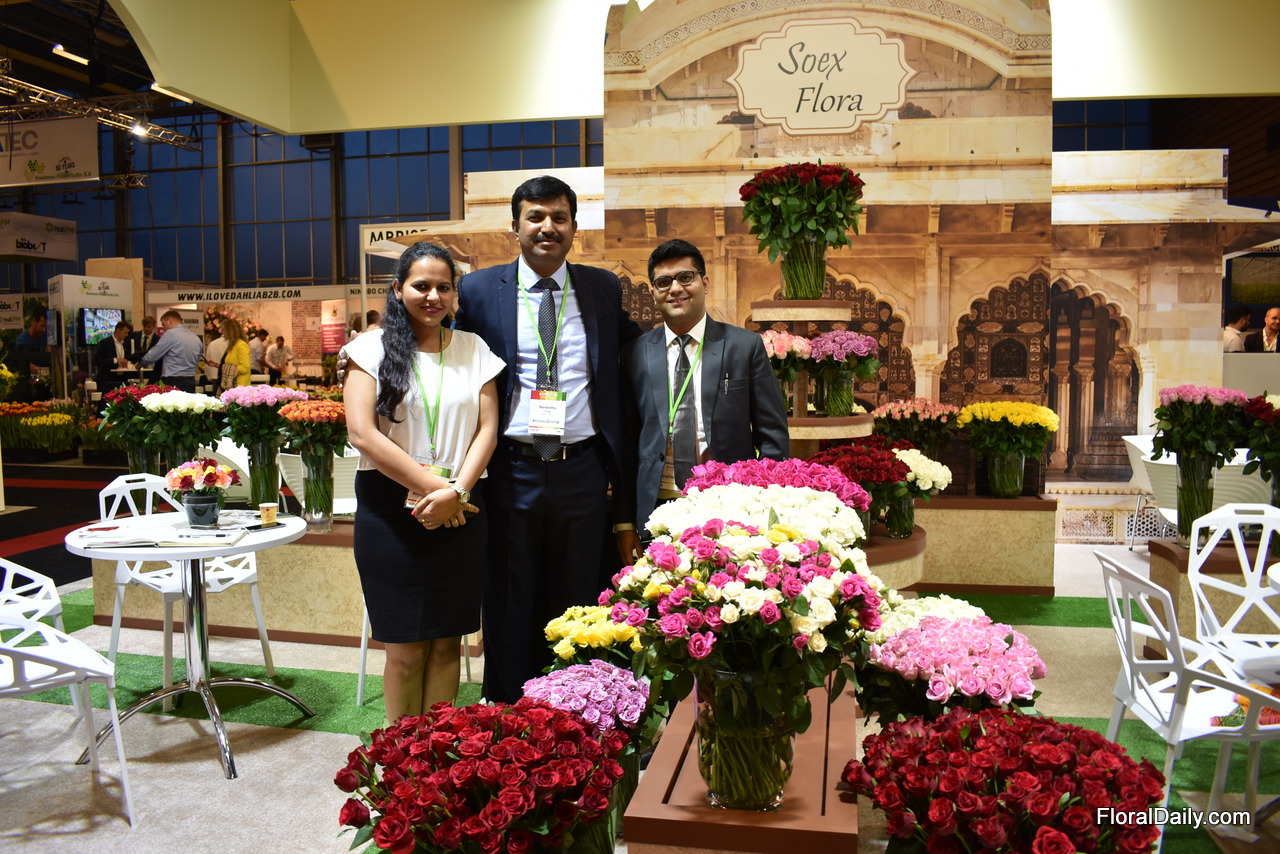 Dolly Mahawar, Narendra Patil and Sidharth Sharma at the IFTF 2019 in Vijfhuizen, the Netherlands. 
Cheap, attractive and reusable
Artificial flowers are cheaper, they stay for longer, can be reused and they look attractive and sometimes even real. According to Patil, these are the main reasons why artificial flowers are being chosen. "You see them more and more being used for all kind of major occasions like weddings, celebrations, parties and even in temples and houses. Actually wherever the decorations and arrangements are needed to stay for long, they are being taken into consideration nowadays."

Soex Flora Farm
Taking away share of real flowers
The increasing popularity of artificial flowers is affecting the fresh flower sales. "Artificial flowers are taking away the share of real flowers because people have started using them regularly in place of fresh flowers." Since the last 2-3 years, Soex Flora, for example, has seen its effects even during the big wedding season and festive season, they are not seeing similar demands and price realizations which they used to get earlier.

Elevated view of the Soex Flora farm
Pollution problems
Besides taking away the share of real flowers, Patil mentions that artificial flowers are a less environmentally friendly choice. They are many times toxic and they contribute to our growing pollution problems as they do not decompose naturally like fresh flowers. Government is already working on reducing plastic usage in daily life due to its hazardous nature. Fresh flowers, on the other hand, are absorbed back into the earth and play into the natural cycle of life." 
Pledge to stop using artificial flowers
Since the beginning of this year Soex Flora together with other growers and associations started to pledge to create awareness and stop using artificial flowers. Through their messages on Social Media, they not only ask people to stop using artificial flowers (#stopartificial), but also to save farmers (#savefarmers). Moreover they stress that fresh flowers bring positive energy and freshness wherever they are used. "Their colors are more vibrant and can't simply be replicated by the artificial ones. In addition, fresh flowers always feel more sincere, and more filled with emotion, than artificial flowers when you're giving them to someone you care for. We believe when its flowers it has to be natural!"
"We all should join hands and support fresh flower usage for a better tomorrow!, he concludes.
For more information

Soex Flora
Email: info@soexflora.com
www.soexflora.com
https://www.facebook.com/soexflora
https://twitter.com/soexflora