Almost all flowers for International Women's Day and UK Mother's Day (March 11) left the cold room of Kenyan rose farm Panocal. The demand and prices at the Dutch auction are similar to last year, but the volumes are about 20 percent down. The 38ha farm lies just outside the town of Kitale at an altitude of 1,880 meters above sea level and the unusual wet weather in Kenya and extreme weather in Europe are the main causes of the decrease.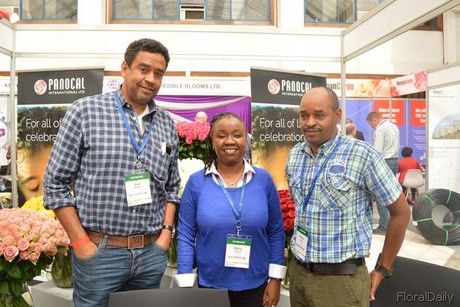 Paul Wekesa, Mercy Njugua and Boniface Kiama of Panocal.


Wet weather in Kenya
"Usually, the rains come in April, but this year, they were very early. The end of last week, we have had three continuous days of rain", explains Paul Wekesa, director of the company. "This, combined with the cold temperatures and dark days resulted in a decrease of production."
Cold weather Europe
A part of the problem lies in Europe. About 70 percent of Panocal's flowers go to the Dutch auction and as the Netherlands was also dealing with unusual weather, logistics were affected as well. "Due to the extreme weather, we have had one or two flight issues."
Pink and other colored roses
The combination of International Women's Day, that is heavily celebrated in Russia and other Eastern European countries, and UK Mother's Day creates a good demand after Valentine's Day for Panocal. "These holidays are nicely succeeding Valentine's Day not only time wise, also color wise. There is a good demand for all kind of colors, but the big headed pink and cerise roses are the best sellers. The reds are always doing well regarding the price due to the lack of roses after Valentine's Day.
Next holiday
The next important holiday for Panocal will be European Mother's Day that is celebrated on Sunday May 13 and they are hoping for good weather conditions till then. "April is often a tough month because there are often much rain which makes us fight diseases, but let's see what Mother Nature will bring."
For more information
Panocal
Paul Wekesa
Email:
pwekesa@africaonline.co.ke
www.panocal.com