About 99% of all coco peat that is used in Kenya is imported from India and Sri Lanka, but James Kapombe expects this number to change in the coming years. Coming from the coconut growing zone of Coastal Kenya and working with coco peat on a tomato farm, he saw the opportunity to produce and market Kenyan coco peat and last June, he launched his own business; Cocogrow. Currently, his soilless growing media is mainly supplied to Kenyan growers who use it for the propagation of herbs, grass, and cut flowers. And the demand already exceeds the supply. 

Earlier this year, during the Nairobi innovation week, Cocogrow was awarded as one of the 15 most promising startups and were featured in the 2nd edition of the UN Sustainable Development Solutions Network Eco-solutions Youth Report.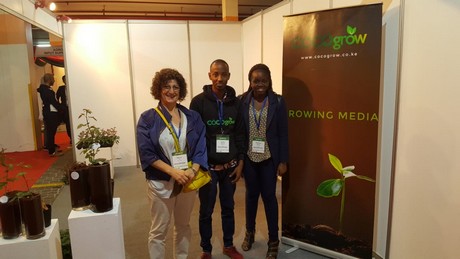 James Kapombe and Patience Kahonzi with Maria Pia from Zyp Onlus, Italy (on the left) at the IFTEX and Fresh Produce Africa in Nairobi, Kenya in June 2018.
Reason 

Cocogrow was established in June 2018, but what was the reason for establishing this company? According to Kapombe, it is the combination between making good use of the high amount of coconut husk waste that is being produced in Coastal Kenya and the need for coco peat among horticulture growers. "In more than 14 districts of Coastal Kenya, where I come from, the main crop is coconut, producing 20,000MT of coconut husk waste a year. This waste is either burnt, emitting CO2 in the atmosphere, or dumped into landfills or drained into rivers or oceans. After finding out this huge amount of waste that is being produced and working for a tomato farm (Casemo foods) - where I discovered the need, importance and advantages of coco peat in horticulture and the fact that 99% of the coco peat is imported from India and Sri Lanka - I saw a good opportunity for coco peat produced from the coco husk waste of Kenyan grown coconuts." So, in August 2016, he started working fully on the coco peat project through R&D and exhibited for the first time at the IFTEX and Fresh Produce Africa in Nairobi in June 2018.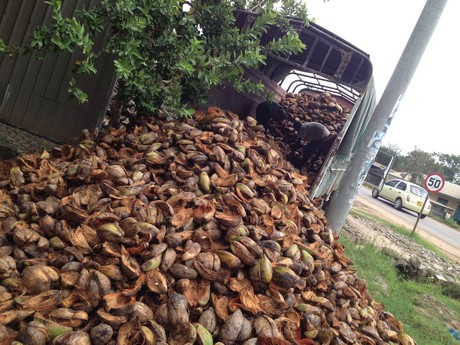 Coco peat husk waste

Advantages coco peat
Over the last few years, coco peat is increasingly being used in the propagation of flowers and vegetables in Kenya. "The main advantage of coco peat in general", explains Kapombe, "is that it retains more water and anchors the roots of seedlings hence reduces mortality during transplanting. In hydroponic growing systems, coco peat, provides an avenue for water recycling hence ensuring water conservation. Besides, the uptake of minerals is also better in coco peat. On top of that, control of pests and diseases is also more manageable; when one crop is infected, a grower needs to take the growing trough/bag outside the greenhouse or field, unlike in convectional soil cultivars where diseases spread fast and easy."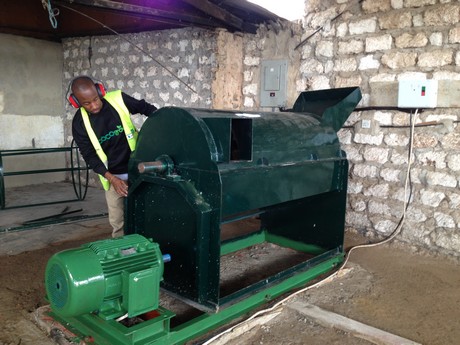 Kapombe inspecting the machines during installation.


Kenyan coco peat

In July 2018, he started the pilot project and began production. From the coconut husk waste from Coastal Kenya, the coco peat is produced at their production facilities in located in Kilifi, Kenya, Kenya. But what is the difference between coco peat from Sri Lanka or India and Kenya? According to Kapombe, the differences in quality is minimal. "The coco peat quality is same or even superior to imported peat depending on the customer need. One of the major advantages is that we are cutting down the hassle, time and cost of growing media for farmers. Everything is locally produced, making them readily available." 
Feedback so far

Currently, Cocogrow mainly supplies growers doing propagation for herbs, grass, cut flowers and other growers mix the coco peat to their ammi visnaga seeds before applying to the main field. Most of their current customers were already using imported peat, and the reactions so far are very positive. "Sometimes it did not meet their specifications (in terms of coarseness and fiber content)."
Expanding
One of the main aims of Kapombe is to expand production and markets. At the moment, we are supplying farmers in Kenya, but we hope to scale to other regions as well as diversify to other propagation materials/inputs. We are able to make a multi purpose grade that is suitable for both nursery raising as well as growing, coarse and fine grades can be made too depending on customer specifications.
Meeting demand
Many growers are interested in our product but we have not been able to supply them with the huge orders (which they buy on credit). "Our current machine has capacity to produce 3 tonnes a day which is very low compared to the market demand." Another reason why they are not able to meet the demand is the low working capital. "Therefore, we are also looking for potential partners and funding. We hope that soon we shall be able to meet the demand."
For more information
Cocogrow
James Kapombe 

Email: james@cocogrow.co.ke

www.cocogrow.co.ke