Friday August 17th was Chinese Valentine's Day. People in China and Taiwan celebrated love with lots of flowers. Some of them were coming from Colombian rose farm Excellence Flowers. "Naturally there is a high demand for red roses, but tinted roses are quite an attraction as well. For those we get especially a lot of requests from Taiwan, where this holiday is very popular", says Pablo Restrepo Samper.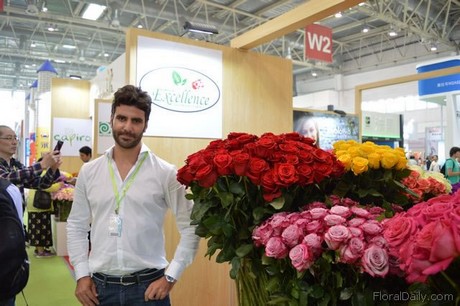 Pablo Restrepo Samper at the IPM Beijing 2016 in China
Building a market

Excellence Flowers exports 5 to 10 percent more stems than on a weekly basis. "Now that the western season is waning, Chinese Valentine's Day is a great opportunity to keep our production to a consistent level. Overall I see that our market in China is growing. In the last four years that we deliver to China for Chinese Valentine's Day, we managed to build a market to which we deliver every week. That was what I aimed for. To not just provide the market for two weeks, but year-round. That brings more value to the market."
The challenge of logistics

Pablo is satisfied with this season's production. "We received the right amount of rain and the right amount of sun. That is good, especially when you notice that the weather was crazy all over the world."
The real challenge however is not production, but logistics. "The flowers have a 35 hour journey to go from the Colombian farm to a Chinese airport. During this time anything can happen", Pablo says. "We use a vacuum cooling system till the flowers arrive at the Colombian airport. It keeps them at 2 degrees Celsius. But then, if the air cargo employees do something wrong, the flowers can be damaged. And then, when the flowers finally arrive at the airport in China, there is a lot of exposure. In the past few weeks, the temperature over there reached up to 38 degrees Celsius. That is challenging for something as delicate as roses from Colombia. Although that is all beyond our control, we hope that our flowers end up at the consumer in good condition."
Auction blossoms on Valentine's Day

The Kunming International Flower Auction Trading Center (KIFA) blossoms on Chinese Valentine's Day. According to 
XinhuaNet
 for Chinese Valentine's Day, about 48 million flowers worth more than 47 million yuan (6.8 million U.S. dollars) are sold through KIFA, with roses accounting for more than 95 percent of the total. About 30 percent of flowers auctioned in KIFA every day are exported to South and Southeast Asian countries. Trade volume of KIFA has maintained double-digit growth, selling 6.53 billion cut flowers worth 5.4 billion yuan last year.