In January Christmasworld will again kick off in Frankfurt am Main. Just like the last time Floradecora has its place in the fair. "We are setting up Floradecora as a market place for fresh flowers at the heart of Christmasworld, in the Galleria", says Eva Olbrich, director of Christmasworld. "A new feature within Floradecora is to be the 'Retail Boulevard', designed and curated by 2Dezign. On the new 'Retail BLVD', professional buyers will experience a retail street with all sorts of visionary ideas."
Visionary retail street
Fresh flowers and plants enrich all festive decorations. And they are gaining rapidly in significance for the retail trade as supplementary products for seasonal and festive decorations. But what is the best way to present this combination? "At the new 'Retail Boulevard', trade buyers of the leading international trade fair for seasonal and festive decorations, will have the opportunity to explore a visionary retail street. Five pop-up stores offer specific presentation recommendations for creating an attractive point of sale – customer-made for florists', garden centers, DIY markets, supermarkets and furniture stores."
Eva Olbrich
The Retail Boulevard, the centerpiece in Galleria 0, is being curated and staged by Holland's 2dezign creative team. "Together with the Christmasworld Team, we attach particular importance to the right blend of wow effect and sales-promotional aspects, which really work for the various types of outlet and target groups. Thus, each store is a source of astonishment with its own world of colour and products", explains Rudi Tuinman, CEO of 2dezign. In daily guided tours of the individual retail concepts, trade buyers will also be given tips on how to create fresh eye-catchers for generating additional sales in their shops.
Labelled
The products on show in the Retail Boulevard will be labelled with the name, hall and stand number of the exhibitor concerned. Buyers wanting to order the products on show will find the complete range of seasonal and festive decorations in Christmasworld Halls 8, 9, 11 and 12 while suitable fresh flowers and plants are to be found at Floradecora in the Galleria.
Like last year at Floradecora, there will be numerous sales-oriented presentation tables for cut flowers and plants which makes product comparisons quick and easy and provide a good overview of the range available. On the tables, clearly visible product-information labels include the exhibitor details so you can enter into in-depth discussions in the Flower Circles.
In these Flower Circles, exhibitors make presentations and hold individual sales talks. Here, ready-made arrangements and decorations with fresh flowers and plants for selling at the point of sale are presented. Characterised by a uniform design, the Flower Circles are provided by Messe Frankfurt – all exhibitors have to do is occupy them.
Click here for our Photo Report of last year's Floradecora.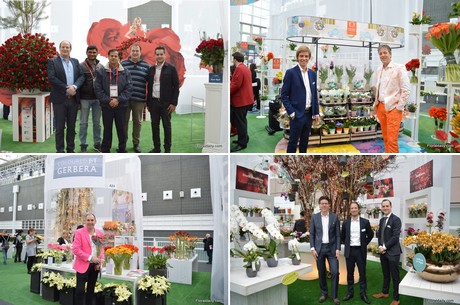 About preceding years
"The last three years have, all in all, been very instructive", says Olbrich. "We launched Floradecora in 2016 in the Galleria. In 2017, we took the bold step of transferring it to Hall 11.1, to realize for 2018, that it was the proximity to Christmasworld that was so immensely important. From the Galleria, buyers have the easiest and quickest access between Floradecora's range of fresh flowers and plants and the decorative hardware of the Christmasworld exhibitors. A further advantage, for both exhibitors and visitors alike, lies in the concurrent dates."
Future
About the future Olbrich says: "we shall continue to be revising the situation, watch the way things develop and proceed accordingly. In other words, we shall be keeping a close eye on opportunities for new business for our customers."
Chirstmasworld and Floradecora will be held at the Messe Frankfurt in Frankfurt am main from January 25-29. 
For more information
Chritsmasworld
www.christmasworld.messefrankfurt.com 
Floradecora
https://christmasworld.messefrankfurt.com/frankfurt/en/programme-events/floradecora.html