Just one year ago, they started by connecting Ecuadorian growers to German floral designers. Now, they also supply florists all over Europe in the US and Canada with not only Ecuadorian, but also Colombian products coming directly from their farms. The platform in question is Fresh-o-Fair and even during this challenging year, they set up a sales team in Spain and welcomed 6 new Ecuadorian farms. "No doubt it has been a challenging year, but with all its ups and downs within Fresh-o-Fair this year's balance is proving to be positive and we have high expectations for next year," says Denise Morgan of the company.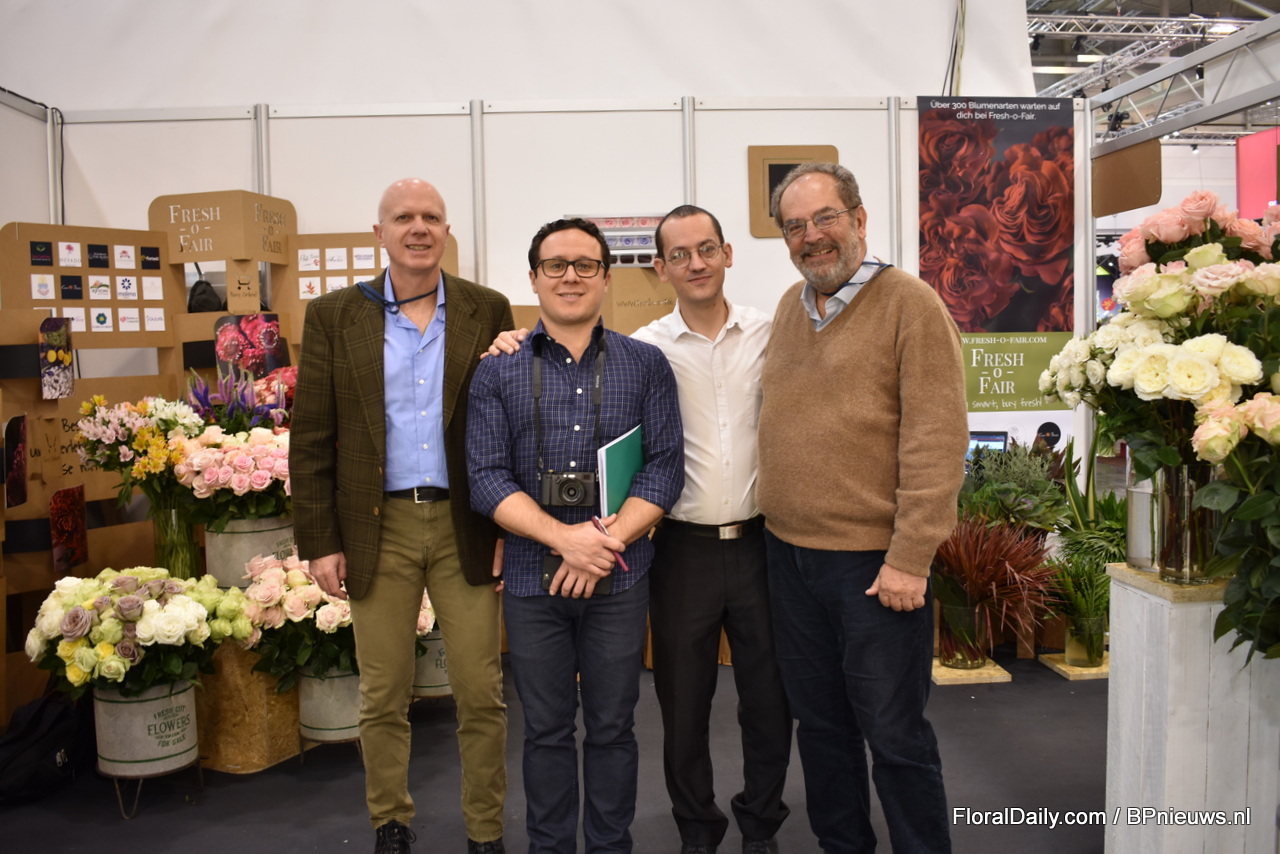 Ricardo Kohn, Juan Rodriguez of Hacienda Santa Fe, Esteban Munoz and Fernando Munoz of Fresh-o-Fair at the IPM Essen 2020 in Essen, Germany.
Challenging but positive year.
"This is no doubt a challenging year for the world's floriculture and floral industry with all its actors, never before have we been so aware of how interconnected we all are. We all in the floral industry have had to endure a very hard year, the current situation has exponentially increased the complexity of the business having to: ensure security for the dedicated staff behind each farm, face the closing of important markets, a significant decrease in global demand, unreliable peak seasons, a transportation sector in crisis and an unprecedented global uncertainty. With all its ups and downs within Fresh-o-Fair this year's balance is proving to be positive."
Expansion of the platform. 
During the last two quarters of 2020, the company has had the privilege to welcome six Ecuadorian farms to its online platform: Magic Flowers, Jet Fresh Growers S.A., Agrogana, Inor Flowers, Natura Eterna and Rosas del Corazón. The company bases its principles on the union and cooperation of the South American flower industry. And according to Morgan, this principle is exactly what has kept a positive attitude within the company. "On top of that, it has proven to be a strong foundation, allowing us to endure this year's crisis with a smile."
The six new farms
Another important step of the company during the last months has been the cooperation with business partners for its Spain branch, where the company now counts with a local sales force. "Today the name and product of 5 Colombian and 27 Ecuadorian Farms-- all globally recognized for their great prestige, seriousness and unsurpassed product quality-- are finding their way to the doorstep of renowned floral designers across the US, Canada and Europe."
High expectations for 2021
They look forward, with high expectations, for the next year. "We stay very optimistic about the development of the floral industry during the 2021. The accelerated digitization and a fast growing reception of a direct, fair and transparent trade in the floral world, have proven that concepts like the one postulated by Fresh-o-Fair have a bright future. The company has made sure to invite the best cut flower companies in Ecuador and Colombia, at the other side of the supply chain the company has gained the trust and support of renown floral designers throughout Germany, Spain, France, Italy, United Kingdom, US and Canada. We now look forward to staying resilient and be able to adapt to the coming market challenges next year."
 
For more information:
Fresh-o-Fair

Denise Morgan
Email: dmorgan@fresh-o-fair.com 
www.fresh-o-fair.com