"Partly due to the cold weather in Ethiopia, we have been extremely busy in the run-up to Valentine's Day", says Jan Renting of Optimal Connection, a Dutch unpacking company for Kenyan and Israeli farms. After a hectic 1.5 week, they can take a breath.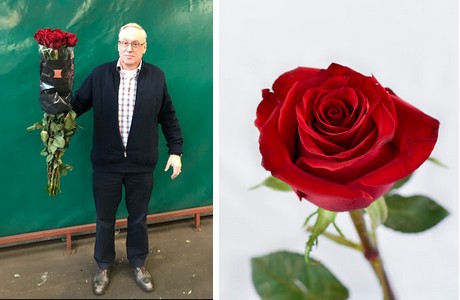 Left: Jan Renting with the Ever Red and right: Ever Red.
High demand for Ever Red

In the run-up to Valentine's Day, Renting is fairly satisfied. "The sales were good and the demand for the red Ever Red roses of the Kenyan farm Belissima was high." This is a new farm of AAA Roses, established in 2015 at an altitude of 2,500 meters above sea level. The bud size and stem length is what makes the roses produced at this height, special. "The buds can reach up to 8cm and the stem 80 to 1 meter. This is something not many East African growers can achieve during this time of the year."
Low numbers from Ethiopia

The high demand partly is a result of the lower number of roses from Ethiopia. "It has been very cold in Ethiopia which results in a low number of stems this year. However, also Colombian growers have had cold days, which also resulted in a decrease in production. In Kenya, in contrast, the weather was good and the numbers and quality therefore too."


Good prices

The high demand and the lower numbers from Ethiopia, but also from Colombia result in higher prices for the Kenyan roses in general. Ever Red roses from Beliossima, for example, were in high demand in the first place, but was lifted even more due to the lower numbers from Ethiopia and Colombia. And this was visible by the prices. "Ever Red was sold for around 2 euros per stem and in Belgium for even more; 2.15 euros per stem."


Wednesday

This year, Valentine's Day is being celebrated on a Wednesday (February 14) and according to Renting this is one of the best days for the industry. "For bouquet stores it means less stress. Comparing to last year, when it fell on a Tuesday, the bouquet stores could work without too much stress this weekend. Yesterday, they could supply everything so that it can be on the shelves of the shops today."
For more information:
Flower Optimal Connection
Jan Renting, Sales Manager
M: +31 631639122
T: +31 297392200
E:
j.renting@optimal-connection.com
www.optimal-connection.com