Norwegian Mother's Day is celebrated on the second Sunday in February and this year, it was celebrated on February 9. It is a very important holiday for pot roses and after two years of patience, wholesaler Blomsterringen Norway is pleased to have Norwegian grown Infinity Roses on the shelves this year.

Blomsterringen at the Roses Forever display at the FlowerTrials in 2018 where they spotted the Infinity pot roses and shortly after asked Roses Forever to offer license to grow to two of their growers in Norway. 
Why Norwegian grown?
Blomsterringen is one of Norway's largest pot plants wholesalers. They mainly supply locally grown products, but also import from Denmark, Germany and the Netherlands. At several trade shows in the Netherlands and Germany, they bumped into the Infinity Roses of Danish breeder Roses Forever and started to look for this product to import. However, due to the high import taxes, they came up with the idea to let a Norwegian grower produce this variety. So, two years ago, they asked Roses Forever to offer a license to grow to a Norwegian grower and in 2019, the Danish breeder had the opportunity to say yes.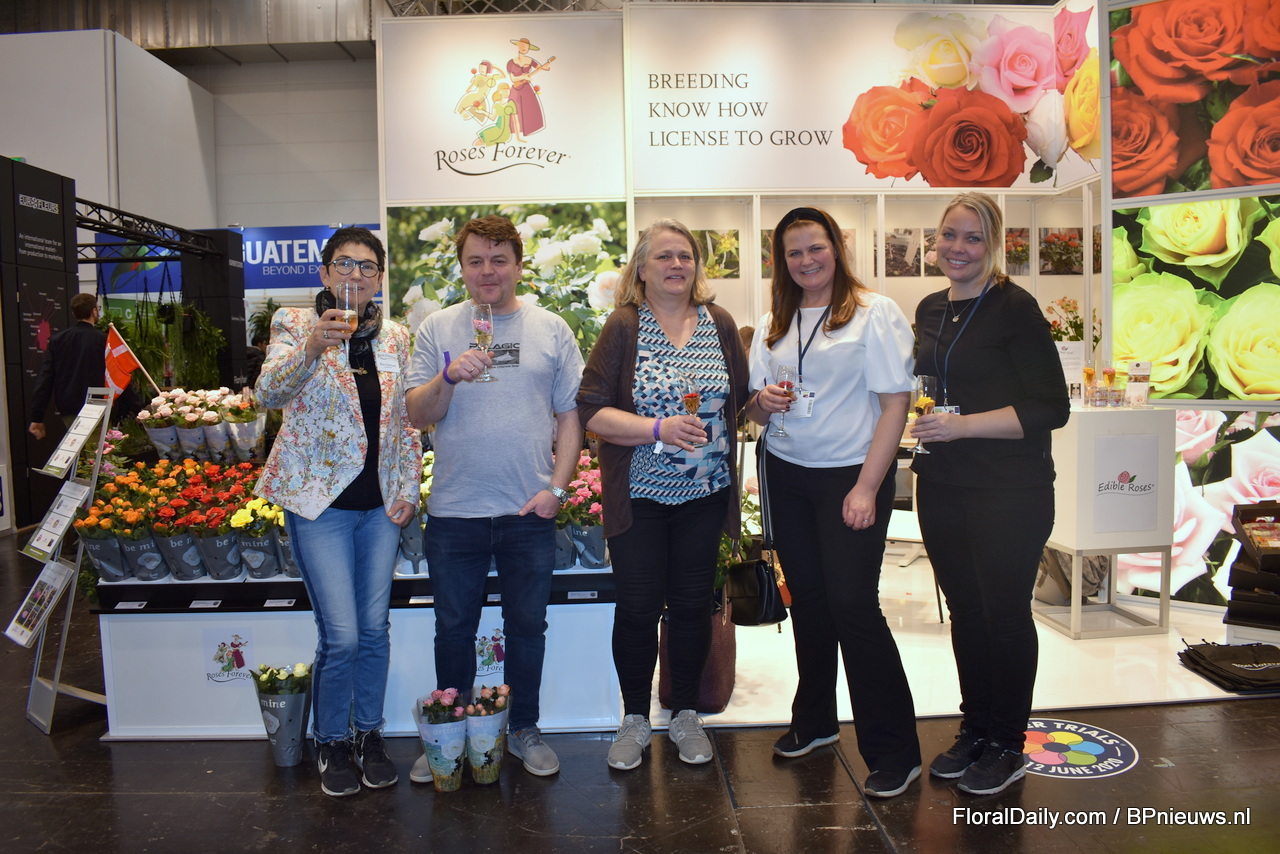 Breeder Rosa Eskelund with the Production Manager of Kristiansen Greenhouses and the ladies of Bama, a Norwegian company engaged in wholesale trading of imported and Norwegian-produced fresh produce. (At IPM Essen 2020)
Norwegian growers
Roses Forever got in touch with two Norwegian growers, namely Widerø and Kristiansen Greenhouses. "Kristiansen is one of the biggest greenhouse companies in Norway, was originally built for potted mini rose some years ago, so it is a perfect nearly new greenhouse complex. Widerø, also had grown pot roses for some years, but shifted to the big flowering Infinity roses also for Blomsterringen", says Rosa Eskelund.

Infinity in the greenhouse in Norway
Last year, Kristiansen started with the cultivation of Sweet Home Roses (potted garden roses) another line of Roses Forever, and was eager to add the Infinity roses to their assortment. "He started just before Christmas with the Infinity roses and grows them in 21 cm, 15 cm, and 12 cm pots. In the beginning, he grew them from half grown products delivered from Denmark and now, he will start to propagate some of them himself, a more cost-efficient way when you know how to do it."
Widerø, the other grower, grows the Infinity roses, the 10.5 cm and 11 cm pots 

Norwegian grown Infinity Rose.
Just in time for Mother's Day
Nearly all Infinity roses have been sold to Blomsterringen and the first roses were on the shelves just in time for Mother's Day - an Important day for pot roses in Norway, which was celebrated on February 9 this year. The next important days for the pot roses is Easter and Norway's National Day (May 17) - "the most important day for plant and flower sales, particularly for roses".
FlowerTrials
Eager to see the collection of Infinity Roses and all other pot roses of Roses Forever, they will be on display at the FlowerTrials. Again this year, they will present their varieties at MNP Flowers in Leimuiderbrug, the Netherlands, from June 9-12.
For more information
Roses Forever

Rosa Eskelund
T: +45 51 57 19 90
Email: re@roses-forever.com 
www.roses-forever.com