Named after a volcano, not only because of its shiny orange color, but also because of its aggressive agronomic characteristics, which shows constant results in the 3 test sites worldwide (Kenya, Colombia and Ecuador). The rose in question is Bromo, a new tea hybrid variety of Continental Breeding, a Spanish breeder of garden, spray and tea hybrids.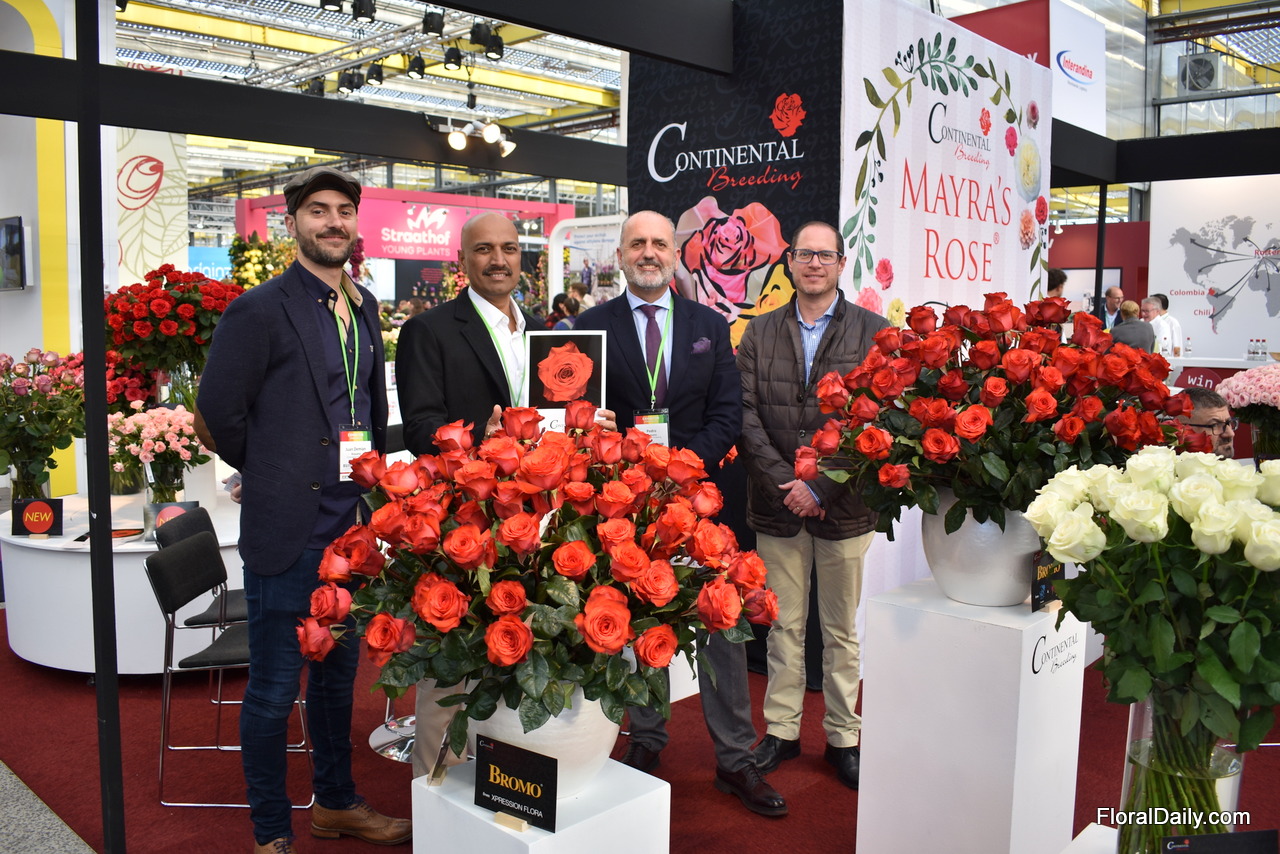 The team of Continental Breeding at the IFTF 2019 in Vijfhuizen, the Netherlands. 
Agronomic characteristics
The name of this new variety comes from the Bromo volcano in Indonesia and according to Continental Breeding's Juan Damian Requena, this name was given as he calls it a 'volcano' of a variety. "In the field, it is a very aggressive growing variety from an agronomic point of view. From planting we can notice its special characteristics of a winner variety, uniform flowering and with stem lengths ranging from 50 to 80 cm on average."
On top of that Requena is very pleased with the shining leaves which makes it a "heat tolerant variety" and projects tolerance to diseases.

These two photos were taken at Maxiflores (Colombia).
Different color shades 
According to Requena, the combination of the shining orange color and the bright foliage makes the flower unique for flower buyers. And depending on the type of plastic used for its production, different tones can be achieved in its color. "If this variety grows under plastic for red roses, its color will be shining orange, a highly demanded tone in the market. However, a grower can obtain a darker shade in the petals endings, like a vintage tone, if the variety is grown under plastic for bicolor roses; this color has its market niche. Both shades have received interesting comments from buyers and flower traders, which makes it even more attractive to producers".
Available for different markets
The robust characteristics of this new variety already manifested early in its place of origin, the region of Andalucía (south of Spain), but quickly showed in other countries as well. With an exhaustive evaluation of Bromo at Alkavat group in Ecuador, the variety has made some nice inroads in the market. Soon the variety entered Colombia where Maxiflores and Aguaclara have planted it. In the case of Kenya, the first farm which started Bromo production has been Xpression Flora. "Together with these expert growers, we can put this for the consideration of the different markets."

Roses on the left were grown at Alkavat (Ecuador) and roses on the right at Xpression Flora (Kenya)
Increasing demand
As the demand is increasing sharply, Continental Breeding is working right now speeding up the availability of planting material. 
For more information

Continental Breeding
Juan Damian Requena
Email: jdemianrequena@plantascontinental.com
www.plantascontinental.com