It is clear that the growers are hit hard by the COVID-19 crisis, but what about the beginning of the chain, the breeders? At the PMA Floral Roundtable that was held yesterday Guillermo Mahecha, Account Manager of chrysanthemum breeding company Dekker Chrysanten Colombia, shared his experience on how they feel - or better say, will feel - the impact of the pandemic.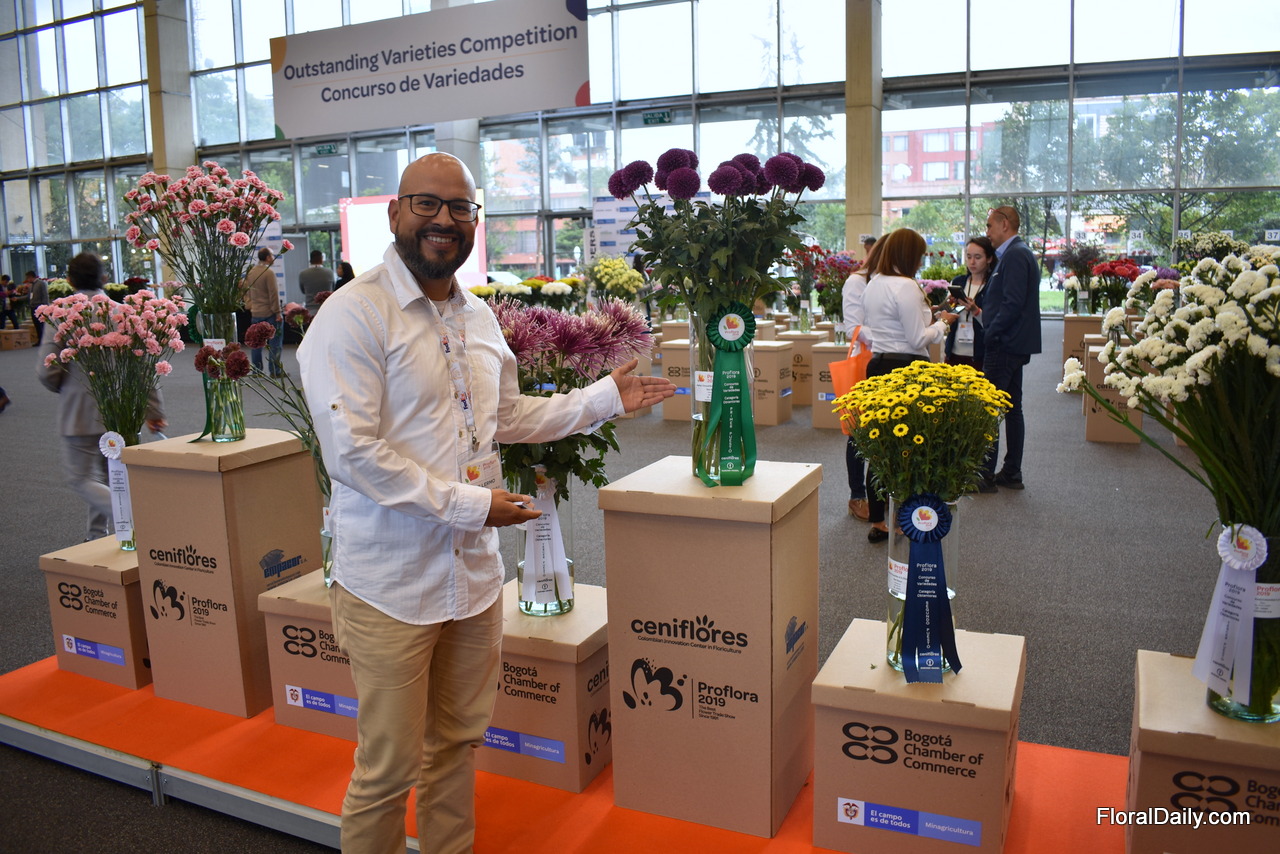 Guillermo Mahecha at Proflora 2019, proudly presenting one of their award winning varieties. 
"So far, we are not affected that much. We did not have to lay off any or reduce the labor hours of our workers yet like many growers had to do. Unfortunately, we are restricted to do any farm visits, so we cannot see our varieties growing and developing at different locations."
However, bigger challenges are to come, he explains. "Firstly, 2 farms went out of business, of which one was a large client of ours. In general, the orders decreased by 50% percent. Secondly, we see some reduced planting among the other Colombian growers. Finally, we see that local production in the US is becoming more popular, which in turn might affect the Colombian exports as well. The consequences of all these current trends, we will definitely see in our revenue at end of this year."
So what can you do as a breeder? "We are fortunate that our mother company Dekker Chrysanten in the Netherlands can back us up when it would become necessary. But till now, we can still keep all our employees so that we can continue breeding and bringing new varieties to the market. Additionally, we will maintain the production of cuttings so that we can supply the farms with all varieties they need and whenever they need it. All in all, we stay in close contact with our farms and look for solutions to keep them, and in the end us, moving on."
Mahecha stresses the severeness of the situation and that exports are essential for this country and more importantly, the people in this country. "We are happy to see that Mother's Day was a good day for the US retailers and in the future, all growers want to continue supplying the market with flowers as they did pre-COVID. Now, however, in some cases, people in Colombia are working the same hours for half salaries, or sent home jobless. They produce a beautiful product and the buyers should think how to help them out."
For more information
Dekker Chrysanten Colombia
Guillermo Mahecha
T: +57 310 521 44 32
Email: guillermomahecha@dekkerchrysanten.com 
www.dekkerchrysanten.com