Ecuadorian rose farm Matiz Roses is expanding its greenhouse acreage by 4 ha. Two hectare will be ready to harvest this month and the other two just before Valentine's Day in February 2019. The reason for the expansion is the potential they see for high end products in niche markets. In order to supply these products, they are equipping their greenhouses with the latest techniques and started participating in a Farm Direct Program in the US about a year ago. And both turned out to be good decisions. "We have expanded on markets in our main export countries Russia and the US", says David Espinosa of Matiz Roses.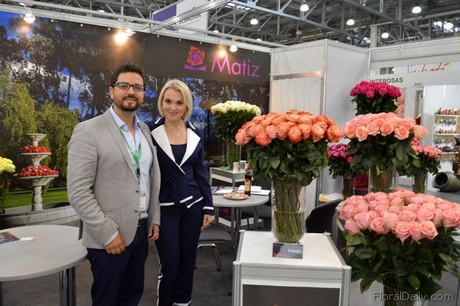 David Espinosa and Natalya Pykanova of Matiz Roses at the FlowersExpo 2018 in Moscow, Russia.

Greenhouse equipment

Matiz Roses is growing roses at 3,000 meters above sea level, in Cotopaxi, Ecuador. At the moment, the total greenhouse acreage covers 12 ha and is currently being expanded by 4 ha. Their aim is to supply their customers with a high end product and then, next to a high altitude and the favorable climate conditions Ecuador is known for, a well-equipped greenhouse has become more important too. For this reason, they have equipped not only their new greenhouses, but recently all their existing greenhouses with new (Dutch) technologies.
One important new system that contributes to a higher quality product is their new fertirrigation system of
Nitzan–Isii
; an irrigation system that needs less time to water the crops. "A crop needs a particular amount of water throughout the day, but sometimes it is difficult to reach this amount as the pumps cannot handle the required quantity. As a result, the crop doesn't receive enough water which in turn affects its growth. With this new system, we can reach the quantity the plants need faster."
Another new system, also from this Dutch company, is their weather system that tracks and anticipates on the weather conditions and is in charge of the environment inside the greenhouse. "Increasingly more often we experience unexpected weather that affects the production. Weather conditions can change rapidly and it therefore became more challenging to adjust the growing process to it. Now, this system anticipates on weather changes and when the temperature drops and frosts are expected, for example, it will start watering the plants automatically. We were often too late, it happened mostly at night when no one is present at the farm."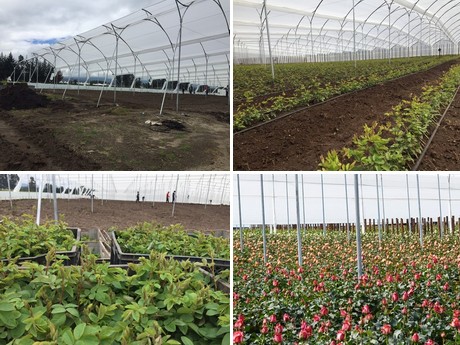 New varieties

In order to supply the right product to the right market, the selection of varieties is important. "When supplying a niche market, next to a high quality product, a good selection of varieties is essential. We work a lot with
Plantec Ecuador
. They test many varieties and supply our plants from the best breeders from all over the world. Together we decide what varieties are suitable as niche product for each market and what new varieties will surprise our clients as well." In the new greenhouses, for example, a part will be planted with Garden type roses. "These type of flowers are more difficult to cultivate, but the prices are satisfactory. In the US, we see a huge demand for these kind of flowers. In Russia, we see the demand increasing." The current assortment of grown at the farm, including the new varieties, is 47.
Farm Direct Program
Last year, Matiz Roses started participating in a Farm Direct Program in the US. With this program, the roses will be shipped from the farm directly to the customer, which are mainly high end florists. "We have direct contact with our customers and we make different mixes for each customer. When we ship out the flowers, we work with UPS. Together with their services, we can bring the flowers from the farm to our customers in just three days. And due to the shorter journey, we can maintain a higher quality. As a result, our customers are eager to pay a little extra. We even have some of our the customers we already had are now ordering via this program." All in all, this new program delivers benefits to both; the customer receives high quality flowers quickly and Matiz Roses receives higher prices.

Even though the benefits, this new way of supplying flowers entails more risks for Matiz Roses. "We are arranging all logistics ourselves, so we pay for the freight, tax, handling, cooling and we are the ones dealing with connections missing or flight cancellations. On top of that, we mainly deal with small orders - a client with 1,000 stems a week would be our biggest one. This means that we will have more contact moments regarding payments."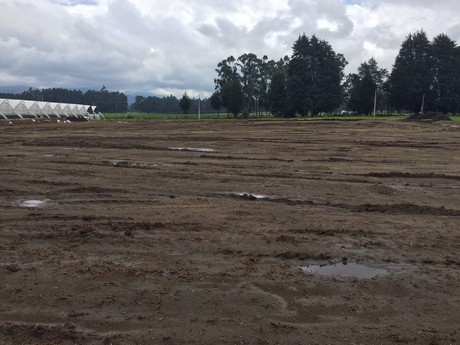 Future plans

In the future, Espinosa is planning to set its sight more on the niche markets. "We see a need for high end products and we try to meet it." And what about expanding the farm? "The land we have here is our own land and is 47 ha. It allows us to keep growing on a regular basis, but we will always evaluate the demand and expand accordingly."
But first some exhibitions. The first show where Matiz Roses will be showcasing their products is the
FlowersExpo
 in Moscow, Russia. This show will be held from September 10-13, 2018. And for the first time, they will be exhibiting at the
WF&FSA
 and that will be held in Miami (FL), USA, from October 15-18, 2018.