With a background of consolidating companies combined with his global experience, Hugo Noordhoek Hegt was chosen as the new CEO of Dümmen Orange. He started on January 1st, 2020 and took over the baton from Biense Visser (who retired and will continue to support the delivery of the company's strategy as a member of the Dümmen Orange Supervisory Board). Creating one company out of the 15 companies within Dümmen Orange, gaining a +25% market share in the top 10 crops, launching their new R&D facility and gaining more market share in Asia are the main goals that are on his agenda. Over the years, private equity fund BC Partners invested a lot of money in this breeding and propagation company, and with the launch of their new R&D facility, they will ensure ROI soon.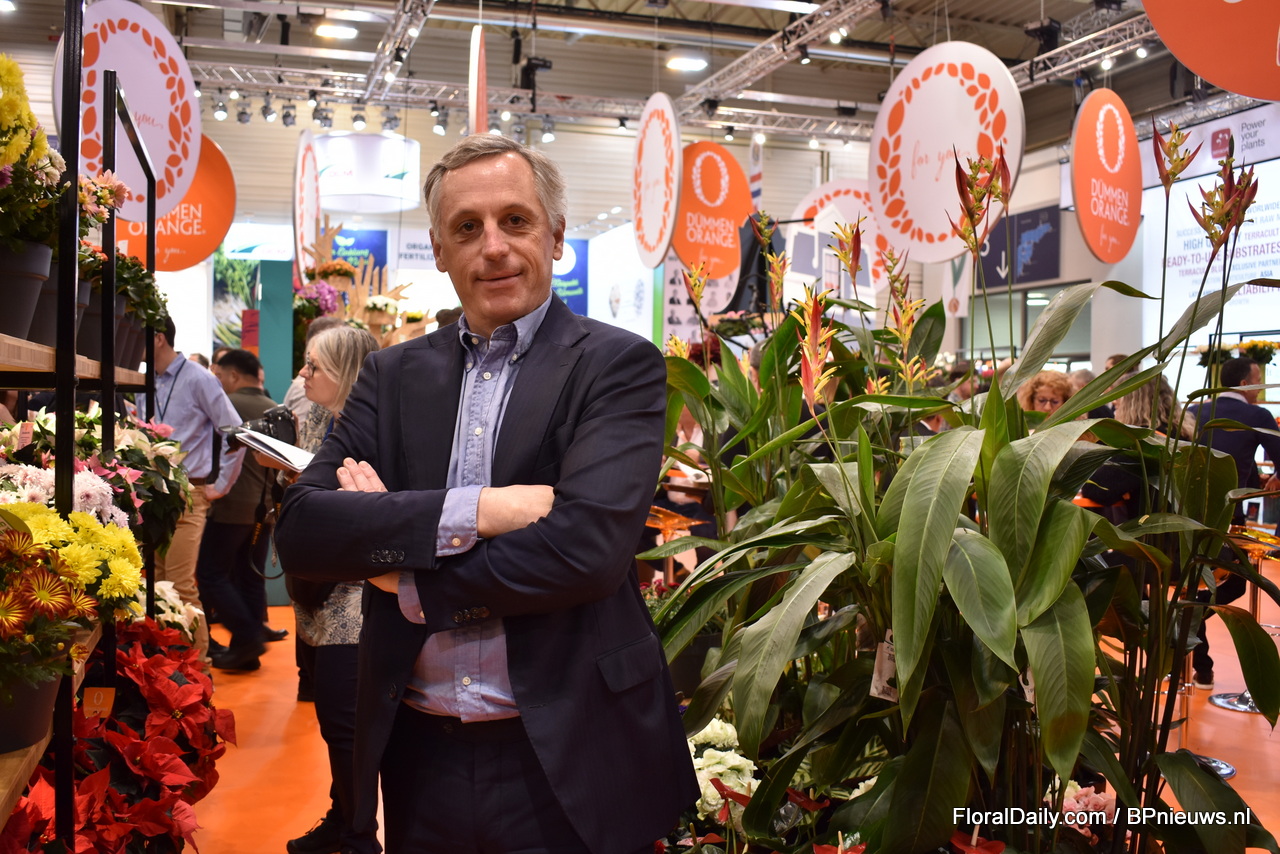 Global experience in consolidating companies
Born (1961) and raised in the Netherlands, after obtaining a Master's degree in Law, working in different management positions at Akzo Nobel for 17 years in Asia and the USA, he returned to Europe in 2004 and started to work for Swiss family company Sicpa, where he managed and then sold the Packaging Inks division. After closing the divestment in 2005, Hugo was appointed as a Board member of Siegwerk Druckfarben (which acquired the Sicpa business) in Germany. He left the company after 12 years and in 2017 he started to support a start-up company, Fintech Foundry, as a Director and co-investor. He was also co-founder of X-Infex B.V. (For a broader background, see this article.)
Noordhoek Hegt does not have any experience in the agricultural sector, but in the companies he worked for, he got familiar with consolidating companies. This, combined with his international experience, made Dümmen Orange decide to choose him.
Integration - creating 5 business units
Since the establishment of Dümmen Orange in 2015, they took over various companies. The enterprise currently consists of 15 companies, creating internal challenges. "Mainly family companies joined Dümmen Orange and when working with so many different business structures, it is important to create clarity, not only for our colleagues, but for our customers as well." Therefore, since the appointment of Noordhoek Hegt, the 'spaghetti network' has been transformed into 5 business units. "We've created business units that are responsible for one of the five sectors, namely annuals, perennials and pot plants, cut flowers, tropicals, geophytes and Quickplug. Each unit has its own business manager, and they can run their business quite freely because around 90% of our growers and clients fit into one unit."
Dümmen Orange has been creating and working with these business units for nearly two months now, and Noordhoek Hegt is pleased with the progress. "I really like my new job, our company and the industry. It is great to consolidate all family companies into one company. We've had a very good start of 2020 and the new structure is being received very well; not only within Dümmen Orange, also by our clients and stakeholders."
Focus on breeding
Even though the Dümmen Orange team works hard to consolidate the company, it remains a breeding and propagating company first and foremost, and they need to bring new and improved varieties to the market. "We focus on beautiful flowers and plants of better quality that are more resistant to diseases, transport and have a longer vase life or shelf life. We are very proud of our R&D achievements such as the mildew-resistant rose and the Tobacco Mosaic Virus resistant petunia."
Investments to enhance breeding
Dümmen Orange is currently the largest breeder and propagator in the world, but to become a forerunner in the industry, more is needed. "We aim for a market share of 25 percent or more in the top 10 crops. In some we already reached it, and others not yet. So, to maintain or growing market share, you have to prove that you are an innovative player." And with the latest and largest investment in their new Breeding Technology Center (BTC), Noordhoek Hegt expects this to happen soon, "We can put the potential of this company in the market and let our growers benefit from what we have."
In November 2018, the construction of the Breeding Technology Center (BTC) started. This new center will centralize all technical facilities in the area of breeding and selection. It will be the world's largest laboratory for plant and flower research and will open its doors officially on May 27, 2020.
What about return on investment (ROI)?
The BTC is a 12 million euro investment, which is mainly enabled by their investor BC Partners. "Thanks to their investment - and not to forget our Elite location in Rheinberg (Germany) - we are able to bring the company to the next level. We've invested a lot and also have a loan at the bank. All in all, a lot of money has gone into these projects and, like any other large project, it takes some time until one gets return on investment. We still make a profit though and in 2023, we have to repay the loan. So, currently, financially, we are still doing OK and we are satisfied with it, we just have to realise ROI in the coming years, and the BTC will be play a large role in this."
More takeovers on the horizon?
When asking Noordhoek Hegt if there are plans to take over more companies, he tells us that they are always on the lookout to grow, but that organic growth with the five business units has priority. "First, this needs to run smoothly. We are already the largest breeder and propagator in the world, but if we come across interesting companies, we will certainly look at the options of taking over."
Asia as a growth market
A market in which Dümmen Orange aims to grow is Asia, particularly in tropical plants, pot plants and cut flowers. They already have a large orchid farm in Taiwan, and also built up market share in Japan and China. According to Noordhoek Hegt, there is a lot of potential for growth. "The markets in this region are growing much faster than in Europe. A lot of people are relocating to cities and the wages are increasing. In a couple of years, China will take over the US as a superpower, as 20 percent of the world market will be in China. More money means more flowers and plants and as the Chinese mainly live in apartments in the cities, pot plants and cut flowers are becoming more important."
On top of that, the government in China is increasingly investing in beautifying its cities with flowers and plants. Many cities in China use the Singapore gardens as their example. In May 2019, Dümmen Orange and Gardens by the Bay, a premier horticultural attraction in Singapore, signed a Memorandum of Understanding (MoU) to develop and broaden their collaboration.
For more information

Dümmen Orange
www.dummenorange.com