"It is an extremely free flowering new cultivar with mid to pale blue flowers that have contrasting creamy/yellow anthers which are produced freely from early Summer to late Summer and early Autumn", says Raymond Evison, breeder of this variety. This new cultivar is part of the Evison & Poulsen Breeding Programme, will be offered as part of the Raymond Evison Clematis Collection 2020, raised in Guernsey and launched at the Chelsea Flower Show 2020.
"It's a stunning plant to grow through wall trained or free standing shrubs and roses and is a delight when grown in pots and containers on a patio or deck garden. Growing only to 3/4ft (90/120cm) it is ideal for both large and small gardens, it's easy to grow, it's compact and its pruning could not be more simple, just cut off all stems at 6" (15cm) above soil level at the end of Winter / early Spring."
Olympia Evipo099
Chelsea 2020
The Clematis Olympia Evipo099 will be launched as a new variety at the Chelsea Flower Show, which will be held in London, from May 19-23, 2020. Raymond Evison is a dyed-in-the-wool exhibitor at this show; last year, he was awarded his 30th Chelsea Flower Show Gold Medal for Clematis Cultivars. 
This year he will again exhibit and besides presenting the new clematis, a lot more will be seen. The Raymond Evison Clematis Exhibit (GPC 197) at Chelsea 2020 will be a 144 sqm Island Exhibit displaying over 2,000 clematis plants in more than 30 Cultivars all raised in Raymond's famous Guernsey Clematis Nursery.

Close-up Olympia Evipo099
This year's exhibit will be a sea of blue clematis in various shades of blue and purple with white tips to the waves, the show visitors will be able to walk diagonally through the sea on a wooden walkway.
The two triangle sections of the exhibit will taper down to a sandy beach with 5 boats in each section floating on the sea of clematis, or be beached on the shoreline of sand, and pebbles.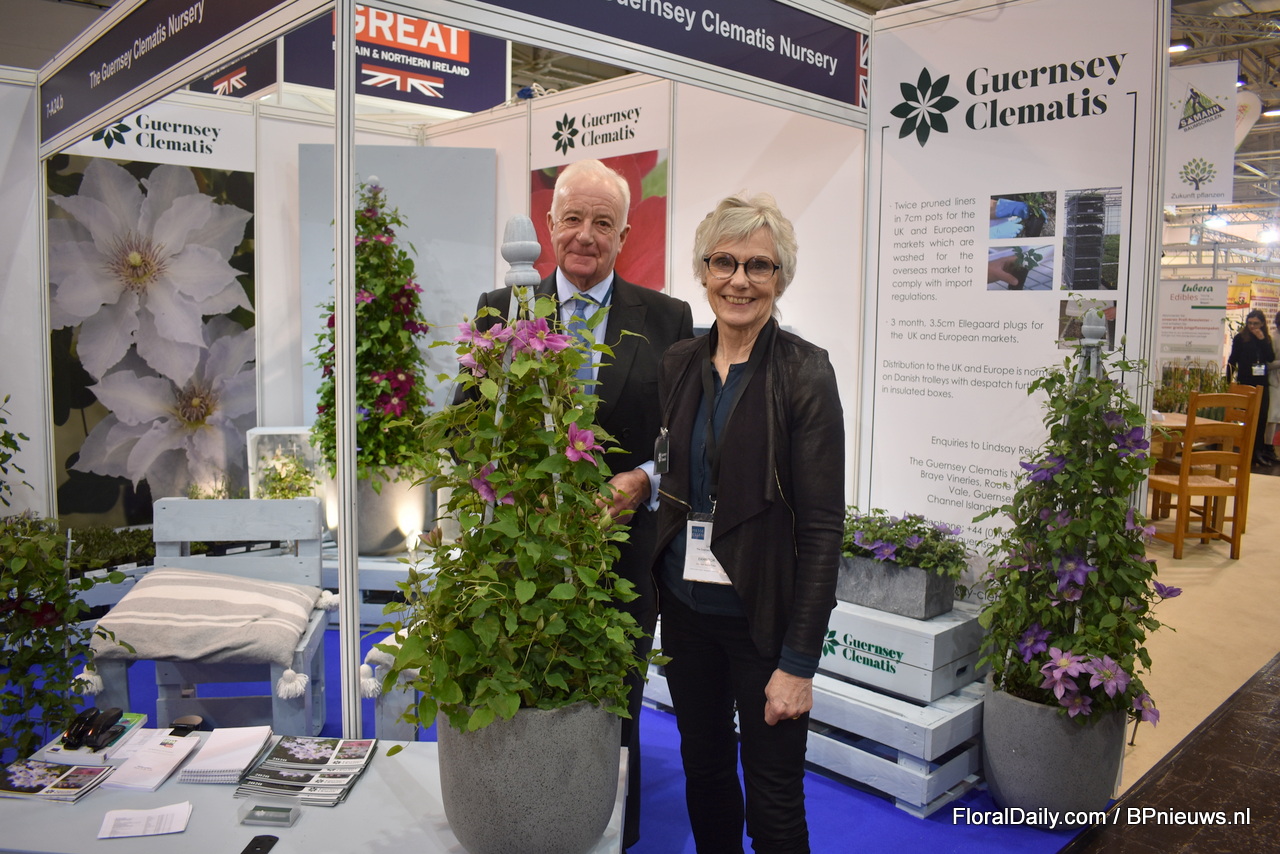 Lindsay Reid of Guernsey Clematis Nursery at the IPM Essen last month, presenting their clematis variety that they introduced at the Chelsea Flower Show 2019.
The boats will be brimming full of flowering clematis in shades of red or pink, locally hand made willow crab and lobster pots will bring added drama to the exhibit, as well as Ormer and Scallop shells depicting a typical Guernsey Beach scene.
For more information
Raymond Evision Clematis
Raymond Evison 
Email: revison@me.com
www.guernsey-clematis.com
Guernsey Clematis Nurseries
www.guernsey-clematis.com