One of the major happenings in May 2019 was Selecta One taking over La Villetta, an Italian breeding company. Another one is the tornado in Linwood, Kansas, that nearly completely destroyed the greenhouses of Free State Growers on Tuesday, May 28, 2019 
Of course this month, holidays are celebrated, like Mother's Day on May 12. It seems to have been a success this year. In California (USA), sales records were broken this year. This day topped Valentine's Day as No. 1 flower-giving holiday. On both sides of the Atlantic, the sales have been good. Also in the Netherlands, Mother's Day 2019 broke export records.
In Sweden, Mother's Day was celebrated on May 26 this year and also for this holiday, high sales were expected.
But more happened in May 2019, see overview below:

Bellalinda, Continental Breeding:
New spray rose line establishes itself in the market
As sales of a new variety run smoothly, breeders often add new varieties and call it a product line or a family. That is also what Continental Breeding did with their spray…

Selecta one takes over La Villetta
After a long partnership, Selecta one acquires the business of La Villetta s.r.l., including the complete breeding program as well as La Villetta Colombia Ltda. Selecta one…

China: First Benary Flower Trials 2019 in Chengdu, Sichuan
The first official Benary Flower Trials in China were held in Chengdu, Sichuan from April 25 to 27, 2019. With the theme of "New Gardening Power", the exhibition covered an…

Plazoleta launches innovative post-harvest method: Dry-C Technology for cut flowers
New tech keeps flowers fresh from harvest to shipping
"This technology is well-known in other industries, but we are the first farm in the world that will use it in cut flowers," Pablo Bazzani of Plazoleta Flowers proudly says.…

NL: novelty assortment presented at PanAmerican Seed Spring Trials
Last week PanAmerican Seed organized their annual Spring Trials in Venhuizen, The Netherlands. Customers could visit the trials during this week, to see all introductions of…

"Rapidly increasing demand for tinted gypsophila"
Tinted gypsophilas are hugely popular nowadays, but where did it all begin? According to Eduardo Chiriboga of Esmeralda Farms, it all started at their farm in Ecuador years…
CA: "Mother's Day tops Valentine's Day as the No. 1 flower-giving holiday"
Mother's Day is Sunday, but California flower farmers have been preparing for this holiday for months. After all, Mother's Day tops Valentine's Day as the No. 1 flower-giving…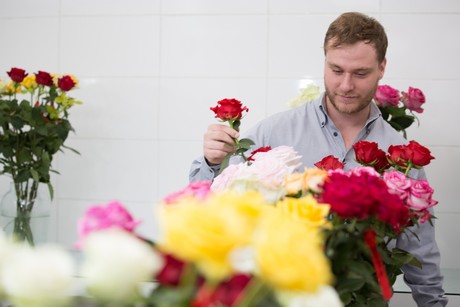 Mother's Day: Great sales on both sides of the Atlantic
This Sunday is the day the entire floral industry, from grower to florist, has been preparing for over the last weeks. Growers from all over the world try their best to have…

Kenya: 75 kWp solar system to power Rift Valley Roses
The inauguration of a 75 kWp solar system to power Rift Valley Roses flower farm in Naivasha took place on Thursday. The solar project will save up to 68 tonnes of CO2…
NL: Mother's Day breaks export record
The export value of flowers and plants rose by no less than 15% in April this year. According to Floridata's statistics, both flowers (+ 19% to € 343 million) and plants (+…
A
GA Agro, Ball Horticultural Company partner across South and Southeast Asia
AGA Agro, a breeder, producer and distributor of garland marigolds across South and Southeast Asia, as well as a distributor of ornamental and cut flower seeds…

Food retailer Axfood on the flowers and indoor plant sales:
Swedish Mother's Day: "We expect around 30 percent higher sales"
"We have very high expectations for the flower and indoor plant sales for Swedish Mother's Day", says Henrik Astrom of Axfood, one of Sweden's largest food retailers. In this…
Orange roses sell like clockwork
"Orange is a multitask color and is in my opinion the most versatile color among all", says Alessandro Ghione of NIRP International. And the sales figures appear to prove him…

"China's economic growth not reflected in flower imports"
We should not have to tell you that China is a country with a lot of potential. The growing economy results in an increase in consumption and therefore has opened up…

Bremkens Orchids sells genetics to Hark
"Focus on propagation will improve plant quality"
German company Bremkens Orchids will focus exclusively on the propagation of orchid plugs. The company sold their genetics to the German lab Hark Orchideen. This is confirmed…

90 percent of Free State Growers's greenhouses destroyed
US (KS): Tornado devastates greenhouse in Lindwood
A tornado in Linwood, Kansas, nearly completely destroyed the greenhouses of Free State Growers on Tuesday, May 28, 2019. The tornado caused about 3 million of structural…

Floral Design Fair: February 27-29, 2020 in Istanbul, Turkey
New fair offers gateway to Middle Eastern's booming floricultural industry
The floricultural industry in the Middle East is said to be booming and consumers seem to become more and more enamored with flowers and plants. In order to show and let…