May 2017 was definitely characterized by the orange petunia. But more happened, see the overview of May 1-15, 2017 below: 
North America: Benary+ off to a flying start
The first Benary+ orders are in. Last month, Benary and Volmary announced their US joint venture, Benary+. This new venture enables them to supply their North American growers directly and offer them the entire range of Benary seeds and Volmary vegetative cuttings. Now, almost one month later, we are curious about how the company is doing, and above all what kind of reactions they received.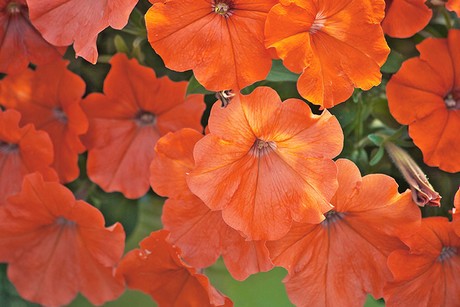 Finnish food safety authority:
Orange petunias not allowed in EU
Finnish Food Safety Authority Evira has decided to remove from sale seeds and planting stock of the ornamental plant petunia characterised by the orange colour of the flowers which has been produced by means of genetic engineering. Genetically modified varieties of petunia are not authorised for cultivation in the EU. As a result of this, the petunia plants and the seed lot will be destroyed and any plants delivered for further growing will be recalled from production. GM petunias do not cause any risk to people or the environment
South American growers recover from tough weather
South American rose growers are experiencing some cold and rainy days for a couple of months now. It decreases the productivity of their crop and increases the occurrence of diseases in their crop. "In March and the first weeks of April, our production was about 10 to 15 percent lower", says Ecuadorian rose grower Sebastian Padula of Josarflor. 
Europe: Green plants hot items for Mother's Day
Green plants have been fashionable interior items for many years and with the right pot, they seem to be great Mother's Day gifts too. Danish grower LUNDAGER, for example, mainly grows green and succulent plants and experienced a 20% increase in demand compared to last year. They supply their products all over Europe and for Mother's Day, their main markets are Denmark, Germany, Sweden, and France. 

Danziger at the Hortiflorexpo in Shanghai:
China: Bright colors attract Asian attention
"Bright colors catch the eye of the Chinese visitors", says Micha Danziger, chairman of the board of Danziger. This Israeli company is exhibiting at the Hortiflorexpo IPM in China for the 2nd time. This year the three-day event is taking place in Shanghai and today, May 12, is the final day. So far, Micha is pleased with the number and quality of visitors. "We met many professionals who are interested in growing in China and in importing new and high quality products to China."