The start of 2017 was marked by exhibitions. And in February, they continued with the Horticontact in the Netherlands and the MyPlant & Garden in Italy. Besides that, February is also important as Valentine's Day is being celebrated. But more happened this month. Below a small summary.
Fleuroselect presents four 2018 Gold Medal winners
Fleuroselect has presented the 2018 Gold Medal winners. Each one of these breeding breakthroughs obtained an outstanding score on innovation, beauty and garden performance, convincing the judges and Entries & Evaluation Committee to award the coveted Gold Medal.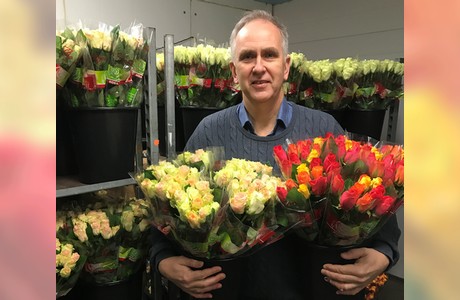 Higher sales expected this year
Busy with Valentine's Day? Norway has Mother's Day first!
Some think Valentine's Day (February 14) and Women's Day (March 8) succeed each other quickly, but have you ever thought of the Norwegians? They have just a few days - and sometimes even no days - between their Mother's Day, which is celebrated on the second Sunday in February, and Valentine's Day. It increases the workload of the flower importers but does not always result in double sales. Sometimes it even affects the consumption of flowers, but in 2017, the sales are expected to be higher than last year. This is explained by Norwegian flower importer Erlend van Deurs Lindberg of Svein Nesse.
Boomaroo Nurseries launches Waterwick in Australia
Australian ornamental grower and vegetable seedling supplier Boomaroo Nurseries is introducing the Waterwick system in Australia. On February 10, 2017, the nursery's General Manager Andrew Burgess and National sales Manager Richard Herzina, along with their merchandise team helped launch the new self watering system for plants by visiting many of the Victorian Bunnings Warehouse stores through which Waterwick is sold.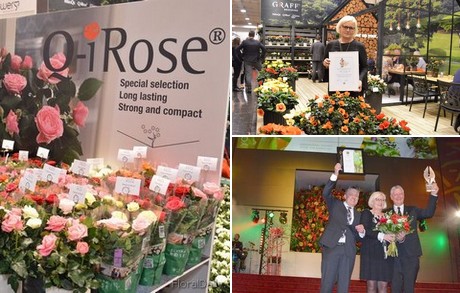 Q-genetics to market potted rose genetics globally
Graff Breeding, Elvira Rose join forces in new company
What a good start of 2017 was it for the more than 85 year old Danish hibiscus and poinsettia breeder and propagator Graff Kristensen and Graff Breeding. Next to winning the gold award in the Young Plants category at the AIPH Grower of the Year ceremony, one of their varieties have been awarded as novelty of the year at the IPM Essen too. Hopefully, this positive trend will continue as they are expanding their activities. They just started to market the potted rose genetics from their new company Q-genetics; a joint company between Graff Breeding and the Danish potted rose grower Elvira Rose. Besides that, Graff Breeding will expand their assortment with own-bred Mandevilla varieties soon. 

Rose grower Sachin Appachu, Bliss Flora:
Kenya: High altitude farms affected by cold weather
"Hopefully the roses will be ready for Women's Day", said Sachin Appachu, general manager at Kenyan rose farm Bliss Flora on February 16. For several weeks, high altitude farms like Bliss Flora are dealing with unusual cold temperatures, which puts the roses on hold, and resulted in a 20 to 25 percent drop in production. Fortunately, and probably due to the lower supply from these high altitude farms, the rose prices for this year's Valentine's Day, February 14, were fairly good among most varieties. "So, for Valentine's, we ended at the same level as last year", says Appachu. 
NL: Valstar and Dümmen Orange partner in pot roses

Plantenkwekerij Valstar plant nursery and breeder Dümmen Orange have signed an agreement concerning the production and marketing of the pot rose assortment in the Netherlands. For Valstar this offers opportunities for growth with a new product. For Dümmen Orange it is a logical step in its strategy to outsource the cultivation of end products which do not fit its core activities.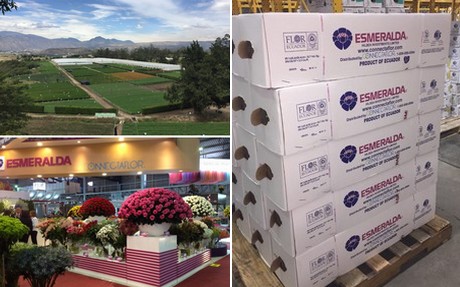 Connectaflor: From US to worldwide distributor
Esmeralda brand available worldwide again
Who is distributing flowers for Esmeralda Farms internationally? Since the closure of the operation in the Netherlands, this has been a question asked frequently. The answer is Connectaflor. About a month ago, Esmeralda's US distributor, Connectaflor has taken on the task of promoting and selling the Esmeralda brand worldwide. 
Italy: Third edition Myplant & Garden in pictures
In February, the MyPlant & Garden exhibition was held for the third time in Milan, Italy. This international trade fair of the floricultural/gardening sector was held from February 22-24. A broad range of flowers, plants, pots, decoration, architecture, machinery, services and techniques was presented at the show by 567 companies, which is a 30 percent increase compared to last year and a 70 percent increase compared to the first year of the exhibition.